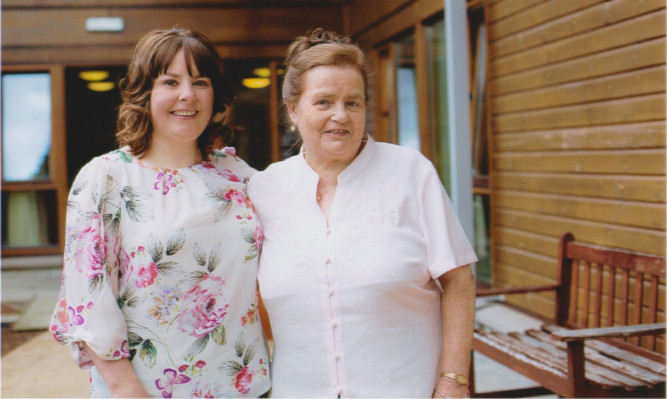 A Muthill woman has raised more than £3,800 for charity by taking part in a bungee jump on what would have been her mother's 70th birthday.
Corrina Robertson, together with her son William, his girlfriend Tara and Tara's brother Andrew, did the Killiecrankie Highland Fling Bungee last month in memory of Corrina's mother Margaret Kerr who died of cancer in September, just six weeks after being diagnosed.
She also hosted a disco and stovies supper in the Crieff Hotel, selling out the 120 tickets, with a raffle and auction on the night. The cash raised by both events will be donated to Macmillan Cancer Support.
"The support from local businesses, family and friends was overwhelming and I would like to thank everyone who helped us mark my mum's special birthday in any way," said Corrina.
"Organising the event gave me some focus and really did help me through such a difficult time.
"I was looking forward to doing it and I'm not scared of heights, but when I got up there I was quite scared and had to have a wee push.
"My son is terrified of heights but when it was his turn he just took off no problem.
"I managed to do it on my mother's birthday. At this time of year they are only usually open at weekends but they agreed that if I could get four jumpers they would open it for me on the Tuesday."
She added: "I can't help my mum but I wanted to help others."