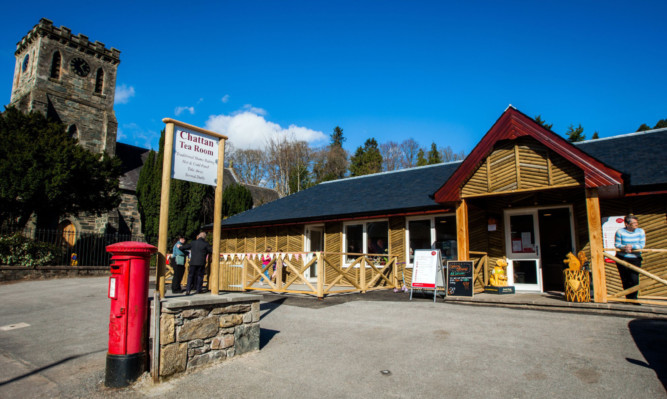 A distinctive Perthshire building is back in action after being rebuilt from the ground up.
The Wild West-style post office in Birnam, which was originally constructed in 1949, had to close temporarily after rot was found in the building.
Now postmistress Anne Steedman and her daughter, Kelly Annets, have built a larger structure in the same style.
The expansion of the building has allowed the pair to improve on existing tearoom facilities and comply with modern legislation by installing a new kitchen and a disabled toilet.
The new old-look post office was officially opened by the village's oldest resident on Saturday.
Jessie Sinclair, who will soon turn 105, cut the red ribbon in front of the packed tea room.
Mrs Sinclair, who picks up her pension at the post office every week, has fond memories of the original building.
"I have much pleasure in opening the new shop," she said.
"I've lived in the village for 94 years.
"It's the third post office I can remember in the village the first was where the Spar shop is now, then it opened in what is now a hairdresser's.
"I remember when this was a wee market garden with a long fence.
"A family from Aberdeen took it over and built the first wooden building.
"The new building is lovely they've done well. I'm really impressed."
Jessie was assisted in opening the new building by Kenny Bray.
Before retiring, the 64 year old former postie spent all but two of his 38 years service working from Birnam.
He said: "It's amazing to see what they have developed the post office into from what it was previously. The facilities they have now are going to be a big benefit for locals and tourists alike.
"It was a quaint building, which had been built by the previous postmaster it lasted a long time."
Ms Steedman, 50, said she, too, will miss the new building's predecessor.
"I'm sad to lose the old building in some ways I worked there for 28 years, she explained.
"I'm sad to see the old building go but it's the start of a new era."
The rebuilt post office and tea room initially faced a battle to obtain planning permission as the Architectural Heritage Society of Scotland formally objected to the proposals.
In a letter, the society said: "Birnam post office is an interesting architectural throwback to the early 20th Century.
"It is a building of very special charm and adds greatly to the character of the village.
"We note that no good reason has been given for this demolition.
"The applicant obviously would like to enlarge the property and this could well be done by extension to the rear without impinging on the unique front elevation."