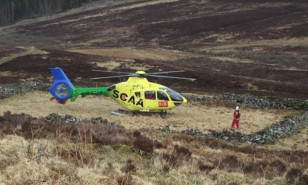 Scotland's Charity Air Ambulance (SCAA) was scrambled to rescue a man suffering chest pains as the helicopter crew chalked up their 1,000th response in three years.
Hillwalker Allan Thornhill has spoken of how his leisurely holiday weekend trip to the slopes of Schiehallion in Highland Perthshire turned into a full-scale emergency.
SCAA was called from its base at Perth Airport when emergency services received a call to say a man was experiencing severe chest pains the charity's 1,000th call-out in less than three years.
The walk in the hills for Allan and his wife Lesley soon became a race against time when the 57-year-old taxi driver doubled up in agony.
Recovering at his home in Troon, Mr Thornhill said he was in no doubt that he owed the helicopter crew his life.
He was flown to Ninewells Hospital in Dundee in only 20 minutes a journey that would have taken an hour and a half by road.
Army lawyer Gavin Law was the first member of the public on the scene as the mountainside drama unfolded.
"I heard a woman shouting for help further up the slope and found her husband doubled over on the ground looking very unwell," said Mr Law who is from Musselburgh.
"He was having difficulty breathing and was complaining of severe pains in his chest and I realised it was pretty serious. I dialled 999. They kept me talking and said help was on its way."
Mr Thornhill said: "I was drifting in and out but when I heard the helicopter and saw it land further down the hill I remember a great wave of relief and when the paramedics were at my side I started to feel new hope."
Six other hillwalkers helped carry the stretcher down the steep rough ground back to the helicopter.
SCAA aircrew paramedics John Salmond and Julia Barnes praised the help of the public and for their "kindness and support".
The patient has vowed he will be there for the charity in the future.
"SCAA is worth its weight in gold to the people of Scotland," Mr Thornhill said. "I was able to see my grandchildren enjoy their Easter eggs thanks to this amazing team. "
He vowed to return to Schiehallion for a sponsored climb to the top in aid of SCAA when he is fully recovered.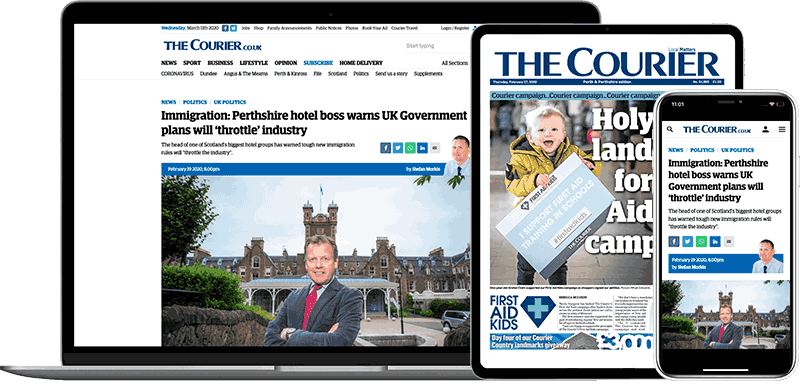 Help support quality local journalism … become a digital subscriber to The Courier
For as little as £5.99 a month you can access all of our content, including Premium articles.
Subscribe