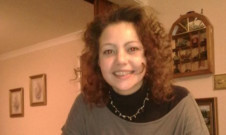 Family members of a Kinross woman allegedly raped and killed in Israel have "no confidence" in the local police investigating her death.
Julie Pearson died on November 28 in the holiday resort of Eilat.
During her 14 months in the country the 38-year-old suffered an attack from a boyfriend and her family believe this may be significant.
It took until three days after her death for police to notify the family, via a friend, and since then they have struggled to get answers.
Ms Pearson's face was covered in bruises and there were fingerprint bruises around her wrists when her body was returned. Her family say police failed to question key witnesses staying at the same guest house as Ms Pearson until two weeks ago and claim they are not taking the case seriously.
Their MP, Hannah Bardell, raised the issue at Prime Minister's Questions last week. Now they want police in Tel Aviv to take over the case.
Ms Pearson's aunt, Deborah, said she phoned the Eilat police every day for three weeks.
She said: "They didn't go and question witnesses who were in the guest house where she died.
"That wasn't done until two weeks ago and only because her friends had went and questioned this boy first. I want them to re-question everybody that was there because they didn't do it right.
"Myself and my brother called the Eilat police for three weeks in a row, every single day, and they didn't give us any answers.
"Eventually they gave a statement on December 23 to the embassy and we didn't get that statement until December 30 when I called the embassy."
Prime Minister David Cameron confirmed he will press the Israeli authorities for answers.
Tasmina Ahmed-Sheik MP, member for Ochil and South Perthshire, is also involved in the campaign.
Ms Bardell and Ms Ahmed-Sheik will meet Tobias Elwood, a minister from the Foreign and Commonwealth Office (FCO), next Wednesday to discuss the case.