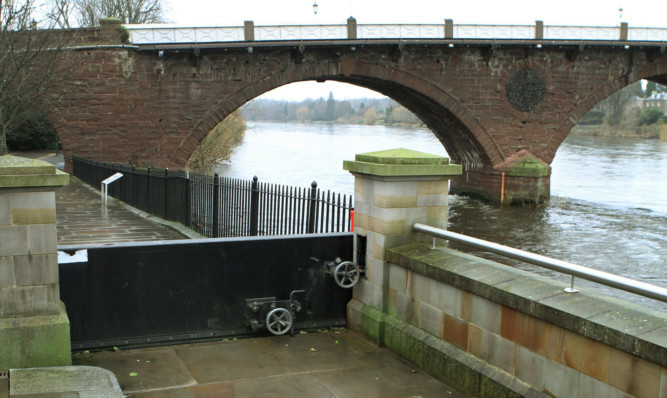 A former Perth provost who fought to secure £25 million for city flood defences said he felt vindicated after the system helped save homes and businesses from at least two potential disasters in recent weeks.
City centre floodgates were closed over Christmas as the River Tay rose to worryingly high levels.
The lock-down was ordered just a few weeks after Storm Desmond sparked similar fears during a tense weekend for people living on the river's edge.
The flood prevention scheme was put in place in 2001 after parts of the city particularly North Muirton were swamped several years earlier, causing millions of pounds worth of damage.
At the time, provost Michael O'Malley campaigned for the control measures despite a backlash from opponents who balked at the hefty price tag.
He said: "There have been a couple of scares over the last few days and it proves that we were absolutely right to get this system installed.
"I know the Tay was very high over Christmas, but it was even worse a few weeks ago with Storm Desmond.
"At the time, people were worried about how effective it would be and how much of a difference it would make.
"But I think the past few weeks have proved it has been very effective and has probably saved us from a repeat of scenes like we saw in North Muirton all those years ago."
In January 1993, the River Tay burst its banks in three places near the suburb of North Muirton.
Within a matter of hours, more than 2,000 homes were either partially under water or badly affected by seepage into their foundations.
Police, firefighters and soldiers led a dramatic rescue mission to get residents to safety.
The incident caused £26 million of damage to properties in the city, plus a further £14m to outlying rural areas.
At the beginning of December, households and businesses in Perth were bracing themselves for a repeat occurrence.
Floodgates were shut and the Queen's Bridge was closed as the Tay soared to near record levels of just over 4.6 metres.
Although homes in Glenfarg, Blair Atholl and Bridge of Earn were badly hit, properties in the city centre flood defences zone were left dry.
Officially opening the anti-flooding set-up 14 years ago, then deputy environment minister Rhona Brankin said the scheme of embankments and flood walls along the Tay from Muirton to Friarton was the executive's "largest single investment in flood prevention in Scotland".
Ms Brankin warned that climate change means that flooding is likely to increase, making it essential that flood warning systems and defences are in place.