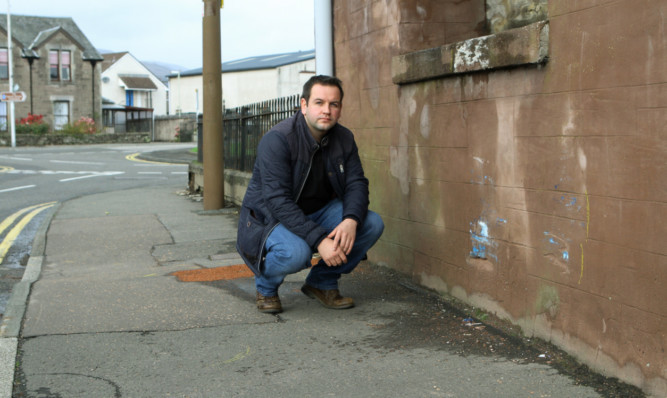 A Perthshire campaigner sent a stark warning about a dangerous Crieff road weeks before a woman was struck by a bus there.
Craig Finlay, 30, of the town's Aspen Court, has called for Perth and Kinross Council to take action on Broich Road following the horrific collision involving a double-decker Stagecoach bus and a 43-year-old woman, named locally as Lena Tocher.
Last month he wrote to Marco Biagi, the Scottish Government's Minister for Local Government urging them to "investigate the conduct of the council".
However the council said road improvements have already been carried out.
Mr Finlay said: "I still have a lot of mothers coming to me to say they're unhappy about the situation with Broich Road.
"Many of them were hoping Tesco's supermarket plan would be approved and they could use their car-park when dropping off and picking up their children from Crieff Primary School, but this proposal was rejected.
"The final straw was when I was contacted by a disabled man who had problems getting along Broich Road.
"The key point is that this road is basically a country one used by agricultural vehicles, and when you walk along it you feel on edge it's dangerous.
"Crieff Primary School is located quite a bit along the road so many mothers feel it's unsafe to walk their children there."
Mrs Tocher is still in a critical condition in the intensive care unit in Ninewells Hospital, Dundee, after the accident at 3.45pm on Friday near King Street.
Both Police Scotland and Stagecoach have said they are conducting separate inquiries into the collision.
A Perth and Kinross Council spokesman said: "The existing footpath was widened by removing the existing telegraph poles and burying cables underground.
"New kerbing and an upgraded surface was provided for the footway and street lighting was introduced along the length of Broich Road.
"In addition, a 30mph speed limit was introduced along the length of the road and the speed limit was lowered at the beginning and end of the school day to 20mph in the vicinity of Strathearn Community Campus, the new primary school and St Dominic's School."
A Scottish Government spokesman said: "Our sympathies are with the woman who was injured last week on Broich Road.
"Safety is of paramount importance in the operation of the road network.
"Local authorities have a statutory duty to ensure the efficient, convenient and safe movement of traffic on local roads.
"As this is a local authority matter, Ministers do not have power to intervene."