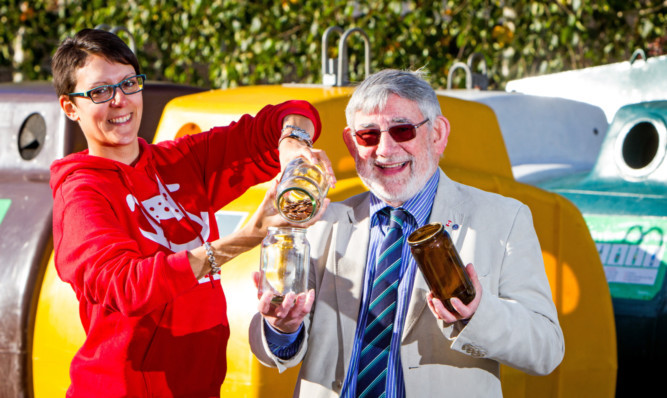 An innovative pilot scheme linking recycling to fundraising for charity was launched in Kinross yesterday.
The first of its kind in Perth and Kinross, Children's Hospice Association Scotland (CHAS) and the council will be working in partnership over the next 12 months to encourage people to recycle their glass rather than disposing of it in landfill.
Convener of the council's environment committee Alan Grant is hopeful that by linking dealing with waste with fundraising in people's minds there will be a surge in recycling.
"For every extra glass jar or bottle that is recycled by you in Perth and Kinross, one penny will be awarded to CHAS's Rachel House Children's Hospice in Kinross," he said.
"So put aside a cardboard box, a plastic tub or a reusable bag in your kitchen and every time you empty a glass coffee jar, a bottle of wine, a jar of jam, a glass container that contained make-up, a medicine jar, a glass sauce bottle, a glass herb jar or a glass condiment jar, then put it aside and take it to any of the council's nine recycling centres or 105 recycling points.
"Everyone can get involved in supporting this local charity give your glass for CHAS."
Glass can be recycled endlessly without losing quality so any change in people's behaviour will be welcomed, he said.
Rachel Cheer of CHAS said it was a "win-win" situation.
"Currently within Perth and Kinross, the council captures 55% of all empty glass jars and bottles but 45% is still being dumped into landfill," she said.
"One penny for each one of those jars or bottles would make a real difference to CHAS just a 10% increase (350 tonnes) over this coming year would bring in between £3,000 and £5,000 for CHAS.
"CHAS currently supports around 370 families from across Scotland.
"As we need to raise over £9 million to operate Rachel House, Robin House and our CHAS at Home service, every penny from this glass recycling campaign really will count."