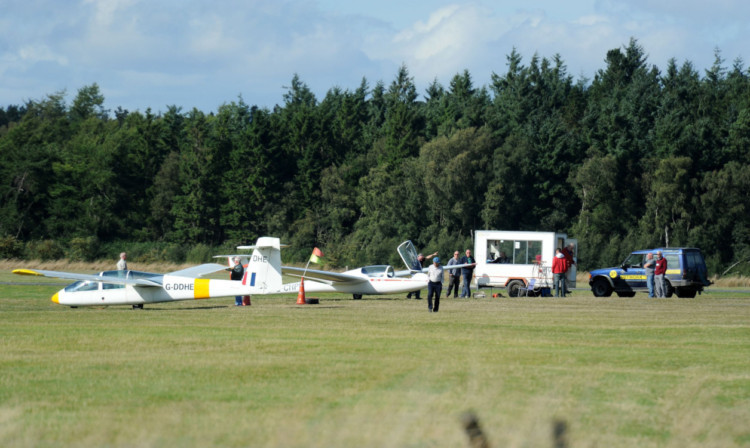 An elderly glider pilot is in hospital with suspected back injuries following a crash near Loch Leven.
The aircraft is said to have hit the ground and "bounced back up in the air" before coming to a crunching halt at Portmoak Airfield on Tuesday afternoon. The 75-year-old pilot was treated at Edinburgh Royal Infirmary after the crash.
Portmoak Airfield is home to the Scottish Gliding Centre, which offers trial flights and intensive courses.
One experienced member, who asked not to be named, said: "What the gentleman did is something most of us have done and not hit the ground.
"It was a misjudged manoeuvre. It's very rare."
The Air Accidents Investigations Branch (AAIB) has asked the British Gliding Association (BGA) to launch a probe into the landing.
The club member added: "The conditions were a bit blustery and we don't really know what went wrong, but we'll find out."
In a statement issued, the police said: "About 12pm this afternoon a glider crashed as it tried to land at the Scottish Gliding Centre at Portmoak Airport, Scotlandwell, Kinross.
"The pilot, a 75-year-old man from the Edinburgh area, was taken to Edinburgh Royal Infirmary with a suspected back injury. The glider was extensively damaged in the crash. No other gliders or people were involved in the collision."
The Scottish Gliding Centre sought to play down the crash, describing it as a "heavy landing".
Chris Robinson, who oversees the airfield for the club, said: "We had a minor heavy landing, that was it. I have no further comment to make."
Gliders soar at speeds up to 180mph using the same air currents birds use to fly. There are more than 90 clubs in the UK, that are overseen by the BGA.
A spokesman for the BGA told The Courier: "The club-owned aircraft suffered cracking to the seat pan and to the nose.
"The AAIB was informed as required, but they have delegated any investigation of the incident, which was witnessed by onlookers at the club, to the BGA. An accident report will be produced in due course."