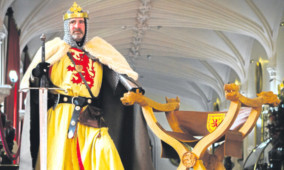 History was brought to life in a series of showpiece events across Perth and Kinross at the weekend.
A new festival at Loch Leven in Kinross-shire celebrating the life and troubles of Mary Queen of Scots was hailed a success.
Held to mark the 428th anniversary of the queen's execution, costumed characters and historical reenactments sent visitors back to the 16th Century.
The two-day event was organised by community group It's Not All Black and White and plans are already under way for a larger event next year on the shores of Loch Leven.
Mary was imprisoned for almost a year in nearby Loch Leven Castle, escaping in May 1568.
At nearby Scone Palace, the clocks were wound back 700 years to welcome a hand-crafted replica of the throne of Robert the Bruce.
The chair was created by the Strathleven Artisans group last year to mark the 700th anniversary of the Battle of Bannockburn.
It was constructed using timber from across Scotland, including pieces from Scone Palace, where Bruce was crowned, Turnberry, where he was born, and from the site of the battle.
Wood from one of the largest and oldest trees in Scotland, the Bruce Oak at Stathleven Estate, was also used.