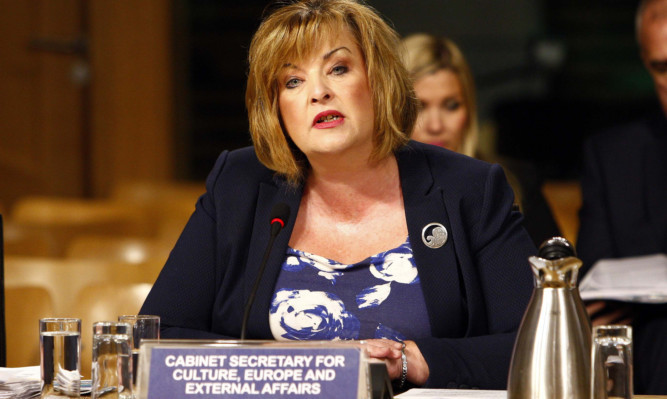 A £150,000 payment from the Scottish Government to the profit-making organisers of T in the Park will be investigated by the public spending watchdog.
Audit Scotland will look into the state grant to DF Concerts, which was made to help with the festival's 20-mile relocation from Balado to Strathallan Castle in Perthshire.
The grant was signed off by Culture Secretary Fiona Hyslop despite the company making a £6.2 million pre-tax profit last year.
The investigation forms part of the Audit Scotland's annual audit of the Scottish Government's books.
An Audit Scotland spokeswoman said their work "helps ensure the public can have trust and confidence about how public money is used". "Given the public interest and correspondence we've received on this matter, we've decided to review the funding provided to T in the Park as part of the 2015/16 audit of the Scottish Government's consolidated accounts," she said.
"We will look at the relevant governance arrangements and how grant funding was applied in this case. The outcome of our audit work will determine when we report on our findings. If and when we identified any issues, we would bring these to the attention of correspondents, the public and the Scottish Government during the course of the audit."
If Audit Scotland find no issues with the payment they are likely to report as usual in Autumn next year. However, that will be brought forward if they uncover anything untoward.
Ms Hyslop was hauled before a Holyrood committee over the payment before having to answer further written questions.
She said the payment was made to protect the "future viability" of an event that has large "economic, cultural and reputational benefits" for Scotland.
There were stricts conditions attached to the grant that it could only be spent on venue hire and consultants' fees, Ms Hyslop told MSPs.
DF Concerts have said the costs of moving the festival were "close to £3 million".
Scottish Conservative culture spokeswoman Liz Smith said it was clear that MSPs were unhappy about the lack of justification and detail offered by the Government.
"Audit Scotland must now be allowed to pursue matters to provide the level of scrutiny which has been absent from the Scottish Government," she said.
Scottish Labour's business manager James Kelly said he hopes Audit Scotland will "get to the bottom of exactly what happened here".
"People across Scotland will find it difficult to understand why a festival headlined by millionaires needed £150,000 worth of taxpayers' cash. It's time for the SNP Government to come clean," he said.
The Scottish Government and DF Concerts have been asked for comment.