 Plans have been drawn up to provide homes for vulnerable Syrian refugees in Perth and Kinross.
The council said it is "positively preparing" to provide a new life for "a small number of families".
Pete Wishart, MP for Perth and North Perthshire, said: "Whilst we have seen real questions raised over the UK Government's genuine commitment to those fleeing war, in comparison it is good to see this sort of response in Perthshire.
"I understand that Perth and Kinross Council will offer support and accommodation to the most vulnerable of those fleeing from Syria in the first instance.
"I am also pleased to see that several groups in the Perthshire area are beginning to collect important supplies to be sent to refugees in Syria's neighbouring countries and to those already in Europe."
The council is at the forefront of the offer of aid, as it was last year that its housing and health committee approved in principle to offer accommodation and support to Syrian refugees through the UK Government's Vulnerable Person's Relocation Scheme.
The council and its community planning partners agreed to resettle a small number of families through this scheme, which is run in parallel with the UNHCR Syrian Humanitarian Admission Programme.
In preparation of the arrival of Syrian families the council has been chairing a multiagency local working group involving NHS Tayside, Perth and Kinross Association of Voluntary Service's Minority Ethnic Access Development Project and Police Scotland.
The multi-agency group is also supported by the council's welfare rights team, legal services and education and children's services, offering specialist help and advice.
The council's housing and health committee convener, Councillor Dave Doogan, said they had been in discussions with the Home Office since last year's committee decision.
"The council had moved proactively to make available all support and assistance necessary to people in desperate need," he said.
A report on resettling families in Perth and Kinross is expected to be submitted to the next full council meeting on October 7 and to the housing and health committee in November.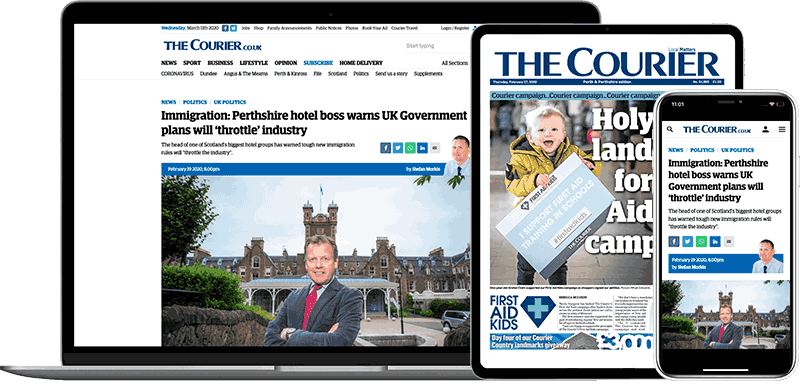 Help support quality local journalism … become a digital subscriber to The Courier
For as little as £5.99 a month you can access all of our content, including Premium articles.
Subscribe