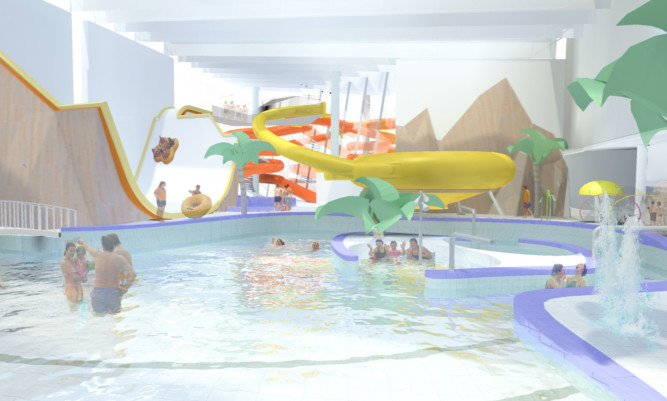 Plans for an ambitious £25 million state-of-the-art sports centre to revolutionise provision in Perth have suffered a major setback due to a serious funding shortfall, The Courier can reveal.
Live Active Leisure, which is behind the ambitious PH20 project, yesterday confirmed the proposals for a replacement curling rink have been put on hold and architects are drawing up revised plans for the re-development of Perth Leisure Pool.
The initial plan was to bulldoze both the pool and Dewars Centre, which hosts the curling rink.
However, the body insists it is still on track with plans for the "sports hub" which would facilitate 20 different activities, attracting 250,000 visitors per year and generating an estimated £2.5m for the local economy.
Funding of £10m is in place, half of which is from Perth and Kinross Council, with additional cash being sought from other local bodies.
The PH20 project team will now undertake a review of priorities to enable it to progress "as early as possible" and assess the availability of funds as the "economic climate improves".
The main focus of the scheme will be upgrading Perth Leisure Pool, which was built almost 30 years ago.
A spokesperson for Live Active Leisure said: "The pool continues to be a popular destination for locals and visitors alike.
"However, trends, needs and aspirations change and the current venue is ready for substantial enhancement to maintain and increase its appeal and relevance.
"It is hoped that the review of the pool building may include increased traditional and flexible pool provision, new and exciting features within a revamped leisure pool facility, fitness studio and gym provision and improved environmental and operational efficiencies.
"The funding shortfall means there will be a hold on the upgrade of the Dewars Centre, although that is still a long-term aspiration. And plans have had to be revised for the leisure pool.
"Of course, other activities such as adventure play, either indoor or outdoor, are also on the 'wish list' as and when funding can be secured."
Jim Moyes, chief executive officer of Live Active Leisure, confirmed the body will continue seeking further funding.
He said: "I am confident that the funds we have secured will allow an impressive step forward which will go a long way to enhancing the experience of local users, schools, clubs and visitors.
Mike Robinson, project board chairman, added: "We are doing everything we can to raise the £25m."