 A man who persuaded a jury his mother bit her own finger off to frame him has been jailed for 11 months.
Kieran Fletcher said his mother Tracy had gnawed her own finger off during a brawl because she wanted him to take the blame for attacking her.
Fletcher said she then smeared blood on his face as they had a violent run-in over the quality of her parenting skills and a love triangle she was involved in.
Fletcher, 23, from Perth, was cleared of the attack, but was jailed for 11 months at the city's sheriff court after he admitted attacking one of the police officers who turned up to deal with the original family incident on April 28.
He also admitted acting in a threatening or abusive manner towards police while he was on bail.
Fletcher told the trial he had not seen his mother bite the end of her finger off, but said it was the only explanation for the injury. He said he had punched her in self-defence.
Ms Fletcher said she had been headbutted by her son and had blacked out. When she came round she realised that her fingertip had been bitten clean off and the bone could clearly be seen protruding.
But Fletcher said: "I pinned her down and she started shouting and yelling. She bit my forearm.
"I tried to resist but the more she sunk her teeth in, breaking the skin, I couldn't take the pain any more and I punched her on the forehead.
"My mum has had plenty years to grow up and act like an adult and stop behaving like an absolute banshee.
"It was not me. I can only surmise that she has bitten her own finger. She wants to get her own back. It's vindictive."
Depute fiscal Gavin Letford said: "She bit her own finger off just so she could get you into trouble? That's ludicrous."
Under cross-examination, Terry Fletcher admitted she had self-harmed in the past but laughed off the suggestion that she might have chewed off her own finger.
"You're having a laugh. Why would anybody bite their own finger off?" she said.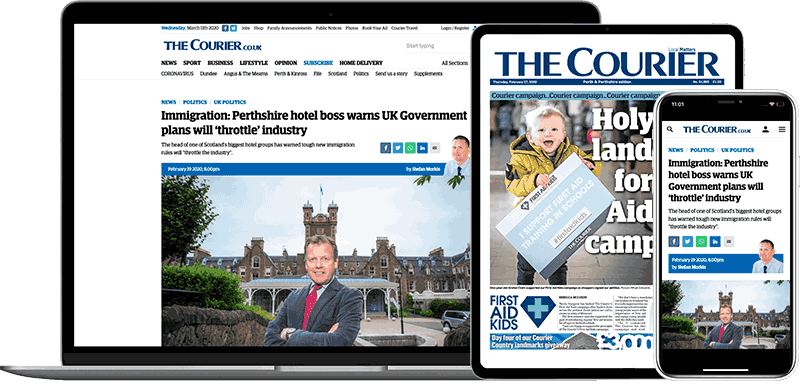 Help support quality local journalism … become a digital subscriber to The Courier
For as little as £5.99 a month you can access all of our content, including Premium articles.
Subscribe