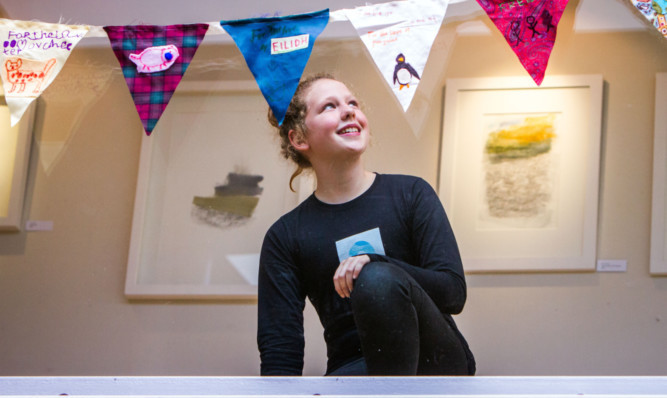 A Perthshire community has held the country's only Live Earth event celebrating the efforts taken to reduce climate impact in their area.
The governments of more than 190 nations are preparing to gather in Paris to discuss a possible new global agreement on climate change.
The conference, running from November 30 to December 11, is aimed at reducing global greenhouse gas emissions and thus avoiding the threat of dangerous climate change.
And the Dunkeld and Birnam community is taking their own action to reduce their impact on the climate, which they celebrated via a Live Earth Birnam event on Saturday.
A 100-metre long community bunting was created showing why people wanted climate action and the event was led by 12-year-old Ruby Flatley, the Live Earth ambassador for Birnam.
Organiser Jess Pepper said: "Hundreds of people from around our community made flags on the theme, #fortheloveof… showing why folk want climate action. The bunting is now 100 metres long and every piece tells a story. It will be hung in Birnam Arts.
"The community bunting will then go to on the road to Paris via the People's Climate Rally in Edinburgh next weekend and then on to Paris in December.
"This is the only Live Earth event I am aware of in Scotland and in the UK apparently."
The event celebrated the efforts made by the local community to reduce their climate impact, such as the community growing project called The Field and a community orchard.
Jess said: "We were also celebrating what people in their own homes and local businesses are doing to reduce their climate impact.
"It could be growing or supplying or serving local food, supporting and promoting active travel, or improving their energy efficiency and switching to clean energy sources.
"For example, people who travel around our area caring for older people are using electric cars and one of the hotels has switched to using a biomass boiler for their heating instead of using fossil fuels.
"It was a great atmosphere throughout the day and was a successful event."