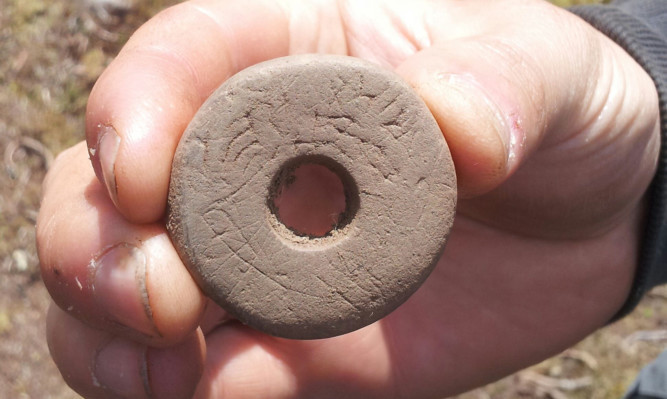 Archaeologists delving into Perthshire's history believe they have discovered a rare object which could shed new light on a long-lost way of life.
The exciting find was made by Diana McIntyre from Ladybank, Fife, while with Glenshee Archaeology Project digging a Viking-age longhouse at Lair in Glenshee.
The small circular stone, with a central hole, is thought to be a spindle whorl, a weight fitted to a spindle while hand spinning textiles to increase and maintain the speed of the spin.
The stone, which is only around 5cm in diameter, has been carefully shaped to be symmetrical, but what has interested the team are the symbols and designs carved onto one surface.
David Strachan of Perth and Kinross Heritage Trust explained the possible significance of the find.
"Through the ages spindle whorls have often been decorated and the spinning action would bring life to these shapes, much like the old spinning top toy," he said.
"While we certainly have abstract shapes on this example, some of the symbols look like they could be writing, perhaps Viking runes or Ogham inscription, a form of early medieval Irish script."
The project, which began in 2012, has been investigating rare examples of early medieval turf longhouses, and engaging with communities to experience archaeology first-hand.
The team are awaiting experts to carefully study the find to confirm the nature of the symbols but, whether Viking runes or Ogham inscriptions, they know it is really rare.
"The only other known spindle whorl with an Ogham inscription is the Buckquoy spindle whorl, probably 8th Century in date, that was found in 1970 in Birsay in Orkney," said Mr Strachan.
"That date is in keeping with the radio carbon dates we have for the turf and stone longhouses on the site."
To find out more about the project go to www.glenshee-archaeology.co.uk