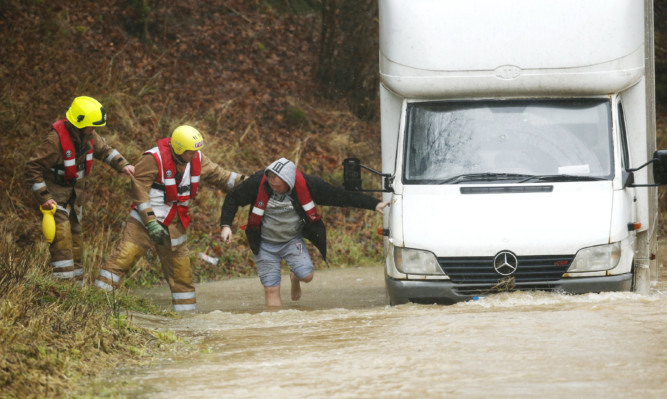 Authorities say the worst of Storm Desmond is now over, although a number of flood warnings remain in place in Scotland.
Perthshire was worst affected in Courier country on Saturday, but a multi-agency response, with involvement by authorities including Perth & Kinross Council, Scottish Ambulance Service, Scottish Fire and Rescue Service and SEPA, helped to alleviate the problems.
With the weather much improved on Sunday, it is anticipated that the flooding risk will lower over the course of the day.
Police Scotland said: "There are a number of road closures across the region, due to localised flooding, and Queen's Bridge in Perth will remain closed until the situation can be re-evaluated after high tide this lunchtime.
"We can confirm that the M90 is now fully open. The public are advised of two landslides in the area – at Glen Lyon and on the A827 Kenmore to Killin Road. Emergency services will continue to assess the situation, along with Perth & Kinross Council roads department."
The spokesman added: "Scottish Fire and Rescue Service pumps have remained in the Bridge of Earn area overnight, keeping water at a level and transferring excess surface water into the River Earn. Around 12 properties were affected by localised flooding overnight and water levels are expected to drop after high tide this lunchtime.
"Scottish Fire and Rescue Service and other agencies will remain at Bridge of Earn until the situation stabilises and members of the public with any concerns should contact emergency services. Multiple agencies will also continue to monitor the River Tay in Perth."
The north of England and southern Scotland were worst affected by the atrocious weather on Saturday, but it was a tense night for residents across Perthshire as alarmingly high river levels continued to climb into the early hours.
Agencies were on standby to monitor the region's watercourses amid fears they could overflow and flood neighbouring roads and homes.
Perth's flood prevention system was put to the test as the River Tay rose to near record levels.Click here for Saturday's coverageThe city centre's Queen's Bridge was closed off at 7pm on Saturday and floodgates were secured.
The river continued to rise after high tide at 11.30pm, but levels held off and started dropping in the early hours of the morning.
The current level – just over 4.3m – is still well above normal, however.
At midnight, hundreds of homes in the badly hit Bridge of Earn area lost power. Engineers battled through the night and managed to get electricity restored by 4.30am.
The area was put on flood alert as the River Earn rose throughout the day at a worrying rate.
River Tay at full #flood in Birnam and Dunkeld, Perthshire #stormDesmond pic.twitter.com/6ev2P4nhJ0

— Andy Russell (@Floodpower) December 5, 2015
Many roads across the region are still closed, with the worst hit areas being Bridge of Earn, Glenfarg, Aberfeldy, Blair Atholl and Pitlochry.
On the A984 at Spittalfield, firefighters and police were called to rescue a young child and two adults from their vehicle after it became stuck in several feet of water. Another couple had to be helped free from their stranded car close by.
Police had urged motorists not to travel unless completely necessary.
Loch Tay appears to have expanded down towards Dunkeld! Silage bales heading downstream. pic.twitter.com/6eJInOMb07

— Doug McAdam (@DougMcAdam) December 5, 2015
The M90 at Glenfarg, where some drivers had to abandon their cars because the water got so high, re-opened late last night.
M90 at Glenfarg on route to Perth. What next !? pic.twitter.com/womIWCHfHG

— Derek Smith (@derek_mainst) December 5, 2015
In the early hours of Saturday morning, 17 properties at Blair Atholl were evacuated after the nearby Garry Burn burst its banks.
Many of the evacuees were taken to the town's Atholl Arms for rest and breakfast, before they were able to return to their homes and assess the damage.
Resident Mike Shanto, who has lived at Garryside for 50 years, said he had never seen it so bad.
"All downstairs flooring is ruined," he said. "We had about five inches of water through the living room, bedroom, kitchen, two cupboards and hall."
Homes in Glenfarg were also deluged in the early hours of the morning, with neighbours rallying together to move furniture and pump out water.
Nigel Goody of SEPA told BBC FiveLive this morning that the worst of the storm was now over.
"However, I would say the danger is not over yet because river levels continue to be high and some areas unprecedentedly so."
Meanwhile, the A827 was closed between Fearnan and Killin because of a landslide, while other routes affected include the B934 between Forteviot and the A9 and the A922 at Bishops Bridge.
The Couttie Bridge, the main direct route between Coupar Angus and Blairgowrie, was also closed as river levels rose.
Train services between Perth and Inverness have also been cancelled.
A planned nativity procession through Perth city centre was also cancelled because of the torrential downpours.