 The SNP Government's rigid policy on domestic abuse has been slammed by police and politicians after a woman was locked up overnight for brushing her abusive drunken husband's face with a Christmas card.
Police who wanted to let the woman off with a warning were ordered by senior management to arrest her and lock her up overnight in a police cell.
The "automatic lock-up" policy imposed in relation to domestic abuse allegations has been condemned by opposition MSPs as being out of touch with reality.
The woman at the centre of the case snapped and flicked the card at her husband after being subjected to taunting and foul-mouthed abuse from the long-term alcoholic.
The woman had been woken in the night when her husband soiled the marital bad in a drunken stupor.
On leaving for work on Wednesday morning, she asked him to make sure the bedding had been changed and washed by the time she returned home after her shift.
However, it is understood that her jobless husband instead opened a bottle of spirits and spent the rest of the day finishing it off.
A source close to the case said: "She came home from work and nothing had been done. She mentioned it and he launched into a torrent of verbal abuse.
"She sat down to try and write some Christmas cards, but he continued to berate her and took a pen and scrawled all over some of the cards, ruining them.
"At that point she obviously couldn't take any more and simply picked up one of the cards and struck him on the face with it. He decided to report her to the police for assault."
A police insider said: "She freely admitted what she had done and the officers who attended were given the whole back story. They took the sensible view that she should not be charged.
"Unfortunately, all of these domestic incidents have to be referred to management and the word came back down the line that because she had admitted slapping him with the card, that constituted an assault and she had to be locked up."
The woman was held overnight and was told she would have to appear from custody at Perth Sheriff Court. However, the procurator fiscal in Perth decided to liberate her on Thursday morning after reading the police report into the case.
The police source said: "No one is saying domestic abuse is not a serious issue but the rules have become so rigidly applied now that officers on the ground are banned from taking a common-sense approach."
Conservative MSP Murdo Fraser said: "Police officers should have license to make calls based on what they have witnessed first-hand without having to automatically lock someone up in the cells for what would appear to be an extremely minor offence."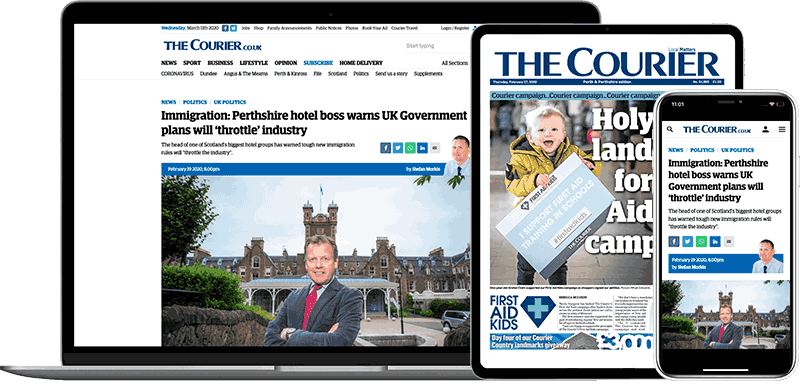 Help support quality local journalism … become a digital subscriber to The Courier
For as little as £5.99 a month you can access all of our content, including Premium articles.
Subscribe