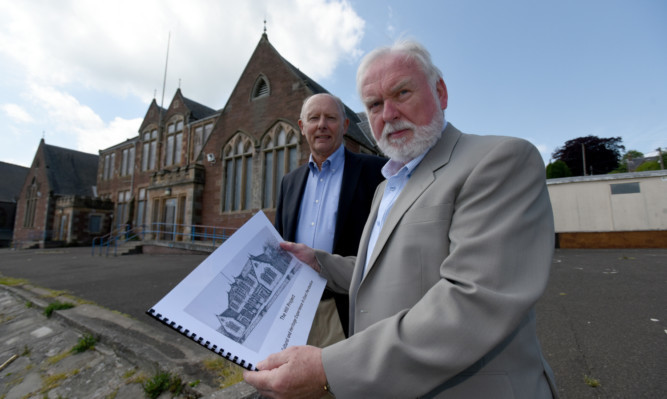 A multi-million-pound bid to breathe fresh life into a landmark Blairgowrie building has been terminated in a shock move by council chiefs.
After four years and more than £60,000 of fundraising, the Ericht Trust has been told its plan to turn the old Hill Primary School into a heritage and cultural centre is not being backed.
The move has been described as a massive blow for the community, which had widely supported the plan.
The trust had hoped to convert the Allan Street building into a £4.8 million community complex with a cinema, arts and craft workplace, a cafe, shop and function hall.
It won support from organisations including SSE and the Architectural Heritage Fund but the plan was killed off in a brief solicitors' letter to trustees that stated: "We regret to inform you that our client (the council) has decided not to proceed with your bid."
Community councillor Ian Richards said it is a major disappointment.
"This was a very popular plan," he said. "The vast majority of people here seemed to be behind this and it was always very well received when discussed at public meetings.
"After all of the hard work that was put into this bid, this decision comes as a real shock. The trust had spent a long time coming up with a robust business plan and what they had proposed would have been wonderful for Blairgowrie. It was just what the town needs.
"We haven't been told what the council's preferred bid is, but there is speculation that it is something commercial.
"There is talk now about holding a public meeting to discuss the reasons behind this decision and that is something that I would support."
The trust's spokeswoman, Jessie Shaw, said: "Naturally, we are very disappointed that all of our hard work has gone down the drain.
"It has caused a lot of anger in the town and you can see that on social media. The trust will meet up in the next few days and look at what we can do next."
Last night a spokeswoman for the council declined to give details of the rival bidder.
"The council's property sub- committee has selected a preferred bidder for the former primary school and now the council will enter into negotiations with them," she said.
The Hill Primary School, on Upper Allan Street, has been closed and boarded up since it shut for good in 2009.
Studies carried out by the Ericht Trust include a roof survey, checks for bats and a topographical assessment.