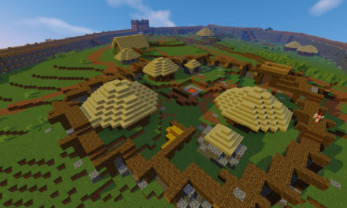 Perthshire children will become digital versions of Indiana Jones to unearth the mystery of a buried Pictish fort.
The block-building world of Minecraft has been used to recreate Moredun Top hillfort on Moncreiffe Hill, Perth.
A real-life team led by David Strachan from Perth and Kinross Heritage Trust is planning detailed excavations to uncover the secrets of the site next month, with the help of volunteers.
Before they get digging, a digital version of the fort has been created by education consultant Stephen Reid, at the request of the Tay Landscape Partnership, for budding archaeologists to explore. His work was commissioned as part of next weekend's Perth Prehistory Festival and the Scotland-wide #CraftingthePast project with DigIt! 2015.
Stephen said: "This project is part of crafting the past, a Scotland-wide, year-long celebration of Scottish history, heritage and archaeology. In partnership with @DigIt! 2015, I have been asked to run a live event at the Perth Prehistory Festival on August 22.
"I've created two Minecraft maps. The first is the complete fort, including the topography of the hill and the ancient fort. The second is the buried ruin as it stands today.
"The kids at the live event will be able to explore the site, identify the markings of the fort and then dig the fort up in an archaeological style. They'll be digital archaeologists for the day. They will uncover the quarry, the stone works, homes, camp fires and animal pens, as well as the extensive defence walls.
"We will also have experts there to talk to the kids about what Pictish life was like and why Pictish people were so important."
Stephen runs education resources company Immersive Minds and uses Minecraft for educational purposes, including curriculum learning and the development of skills for work, life and social mobility. "The kids love using Minecraft for these types of events.
"Minecraft is hugely popular and a lot of people say if you give kids Minecraft, they'll build a fantasy castle," he said.
"However, the children are remarkable. I have got a whole education server where kids do projects for us and they build dams, reservoirs and hotels that were built completely to spec' and budgeted for block by block with the children doing all the math. They thrive on it."
The Perth Prehistory Festival is next Saturday in King Edward Street, Perth, from 10am to 4pm.