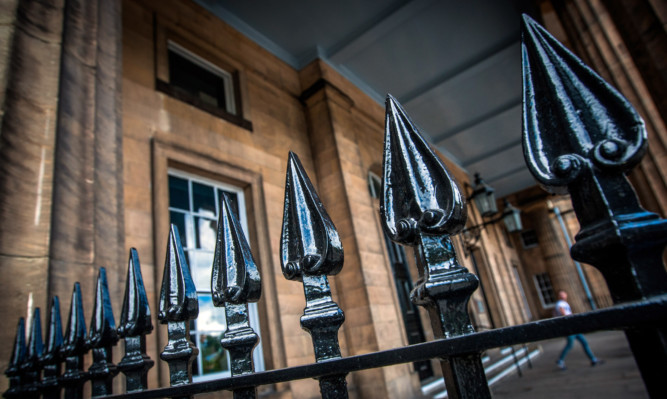 The former headmaster at a Perth boarding school had secret trysts with an underage schoolgirl, a court has heard.
David Cowling is alleged to have abused two young teenagers while in charge of Balnacraig School more than 40 years ago.
Yesterday one of his alleged victims spoke of her relationship with the married teacher, claiming it happened while she was under the legal age of consent.
She said that at first Cowling had cuddled and kissed her, progressing to sexual touching and eventually full sex.
The encounters are said to have taken place at various locations including a caravan in the school grounds.
The woman said Cowling's attentions made her "feel wanted".
She said: "I'd never been cuddled before. It seemed to go from there and we were kissing and that.
"He had a caravan, which was in the grounds, and he would take me there.
"I think I felt wanted by somebody they needed me and loved me."
She said she realised the relationship was wrong after leaving the school and starting to date someone her own age.
She denied a suggestion made by Lucy Keane QC, defending, that no sexual contact had occurred before her 16th birthday and added that she had managed to put it behind her until she was contacted by police investigating an allegation against Cowling.
The court had earlier heard from another former pupil, who said Cowling had "used her like a sexual tool" by carrying out a solo sex act in her presence on two occasions.
Cowling is accused of assaulting a teenage girl at a Perth school by grabbing her throat, holding her against a wall, punching her in the body and allowing her to fall to the ground on a date in the 1970s.
It is further alleged that on two occasions in that decade the 76-year-old used lewd and libidinous practices towards the same girl by entering her bedroom, lying on her bed, placing a hand on her hip and carrying out a sex act.
A third charge alleges that in the same decade he used lewd and libidinous practices towards a second girl by embracing her and kissing her in an inappropriate manner before touching her inappropriately.
Cowling, of May Place, Perth, denies all charges and the trial continues.