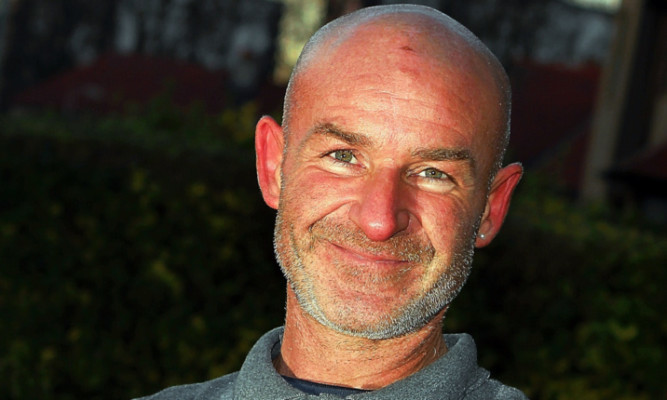 Dundee's dancing plumber has waltzed out of court a free man after being caught with a haul of weapons at T in the Park.
Mark Topen became a global internet star when a video of him dancing at work went viral and was viewed 10 million times.
The 53-year-old was caught with two axes and two martial arts knives in his van during a security search at last summer's T in the Park at Strathallan.
The self-employed plumber, who was attending his first ever music festival, had the weapons in an Asda carrier bag in the back of his van.
Sheriff William Wood heard that Topen had agreed to get rid of the items for a friend but had forgotten to do so.
Depute Fiscal Gavin Letford told Perth Sheriff Court that the weapons were found when Topen's white Ford Fiesta van was chosen at random by security officers to be searched.
Topen later told police officers: "I was handed them by a friend two weeks ago to get rid of them. I put them in my van and they have stayed there for two weeks."
Solicitor Gary Foulis said his client was very remorseful over the incident. He stated that Topen's work involves dealing with a number of waste items that are usually thrown in the back of his van.
On this occasion the waste items had eventually covered up the weapons and led Topen to forget they were there.
Mr Foulis said: "He had never been to a music festival in his life. He was invited by a friend and on the spur of the moment he decided to go.
"He forgot about the items. He is aware that when he agreed to dispose of the items he should have gotten rid of them at the earliest opportunity.
"He never actually touched the items himself other than throwing them in the back of the van."
Topen, of Gilmore Place, admitted taking two axes and two twin bladed Oriental knives into the event at Strathallan Estate in Perthshire on July 11.
Sheriff Wood said: "At first glance this was a very concerning set of circumstances. These were particularly vicious looking weapons in the back of your van.
"Forgetfulness is no defence. You were aware you had the items in the back of your van and it was your duty to deal with them in an appropriate manner."
Topen's fame as the dancing plumber occurred when his dance moves were captured by fellow plumber Brian Ogilvie as he danced to Chicane's Saltwater.
The video was picked up by the LadBible Facebook site and gathered thousands of comments, shares and likes as well as 10 million views.