Mackie's Crisps is set to embark on a Far Eastern odyssey as it attempts to build on its status as a luxury brand.
Manufactured at the former Errol Brickworks in Perthshire, Mackie's Crisps have become a popular offering in the Scottish market, competing against other premium brands such as Tyrells and Kettle Chips.
The firm was founded just six years ago when potato farmers Taylor's and ice-cream producers Mackie's both began drawing up plans to enter the crisps market.
Thanks to the Taylors' expertise in the potato field managing director George Taylor ran TayPack Potatoes and the power of the Mackie's brand, the company has gone from strength-to-strength since its launch in 2009.
While the Mackie's brand may appear as Scottish as shortbread, the crisps have found a big market abroad.
The firm exports to 20 countries, with its three biggest markets currently China, Singapore and Canada.
The company is to take part in a two-week trade fair in Shanghai to build on its success.
Unlike Canada the only place where the crisps are Saltire-branded it is not expats driving sales. Instead, the crisps are seen as a way of showing off wealth.
"We get a far bigger margin exporting them than we do selling them to Tesco in Livingston," said Mr Taylor.
"It is almost a status symbol to say you have got Mackie's crisps."
However, the cost of exporting to such a distant market is also much higher. The company has even had to invest in sturdier boxes so the crisps can survive being shipped to the Far East.
Mackie's also sells premium crisps in Wales under the Taylor brand, which only uses Welsh potatoes.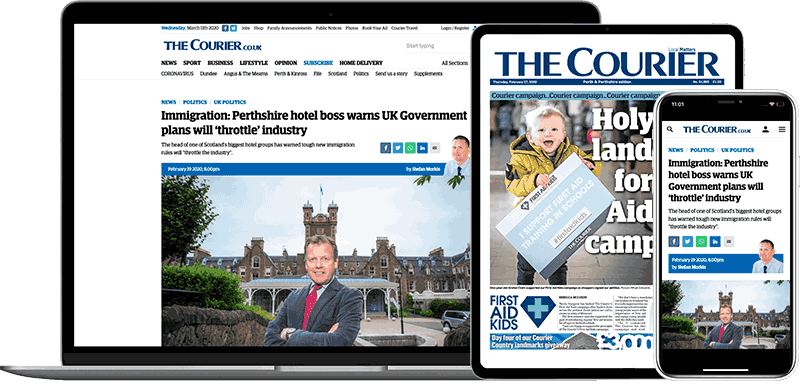 Help support quality local journalism … become a digital subscriber to The Courier
For as little as £5.99 a month you can access all of our content, including Premium articles.
Subscribe