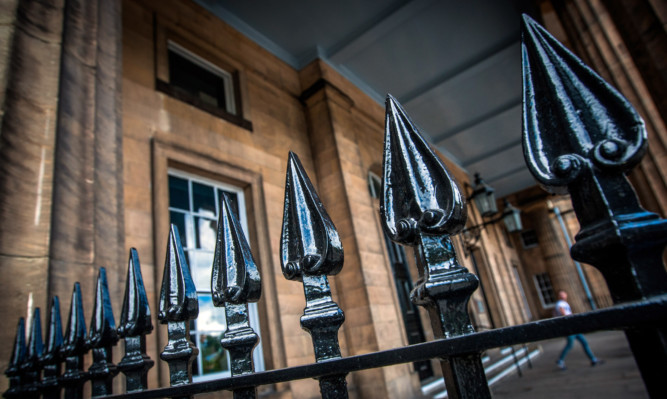 A sheriff has condemned "disrespectful" police officers who dumped a seriously injured drunk man in a cell at Perth Police Station, rather than take him to hospital.
Alcoholic James Milne, who had been arrested following a disturbance at his home in Kinloch Rannoch, died in custody from heart disease days later.
Following a fatal accident inquiry, Sheriff Simon Collins QC ruled that police should have sought medical assistance for 54-year-old Mr Milne, rather than strip him "for reasons that were never properly explained" and leave him alone in a cell.
The sheriff said Mr Milne was left with only a blanket even though protective custody clothing was available.
In his findings, Sheriff Collins said officers spoke to Mr Milne in an "aggressive" and "disparaging" manner and said they had denied Mr Milne "basic human dignity".
When officers checked on their suspect after an hour and 15 minutes, they noticed he had turned blue and lost consciousness.
Sheriff Collins said that although the officers could not have prevented Mr Milne's death, they should have got him medical treatment rather than putting him in a cell.
"The general problem, it seems to me, is that the deceased was a person suffering from a serious medical condition, namely acute intoxication due to alcoholism, and should have been treated as such," said Sheriff Collins.
"Instead, he was treated as an offender who was drunk."
The five-day inquiry at Perth Sheriff Court head that officers were called to the house Mr Milne shares with his brother, Ewan, on May 7 2013, after neighbours reported the two men were fighting in the garden.
Both men were arrested for breach of the peace. Ewan, whose injuries were thought to be more serious, was taken to hospital for treatment.
James, who was listed a chronic alcoholic since 1994, died in the early hours of May 11.
The case was examined by the Police Investigations Review Commissioner.
"A spokesman said: "Our report was submitted to the Lord Advocate for his consideration, which then led to the fatal accident inquiry."
A Crown Office spokesman confirmed there were no proceedings in connection with Mr Milne's treatment.