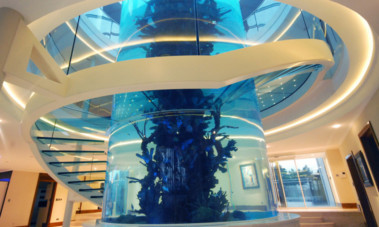 One of Scotland's wealthiest businessmen has lodged a multi-million-pound insurance claim after a massive fish tank shattered at his Perthshire home.
Steven Malcolm, the boss of a leading taxi firm, faced a major clear-up when his 100,000-litre aquarium shattered, flooding parts of his £9 million mansion near Gleneagles.
The incident, which killed all of his fish, caused extensive damage to the kitchen, electrics and dcor.
Now loss adjusters have estimated it will cost around £6 million to fully restore the property.
Mr Malcolm bought a plot at Auchterarder's Queens Crescent, overlooking Gleneagles' Queen's golf course, for £1.3 million in 2007.
The 50ft tubular aquarium, worth more than £1 million, was a centre-piece of the six-bedroom house. It is understood that Mr Malcolm was at home when the tank burst late last year.
The 52-year-old came downstairs to find the ground-floor area filled with water and dead fish.
A source told the Sun newspaper: "The tank was filled with salt water and it soaked into the fabric of the building."
The source said the house is "practically new and finished to a very high standard".
According to architects' designs, the fish tank extended across three storeys and had a steel spiral staircase built around it. A huge crane was used to lower the tank into the house through the roof.
The ground floor, which suffered the most damage, had a formal dining room and huge kitchen, as well as an office with a large bank of CCTV monitors.
The top of the house is dominated by a large circular bedroom and bathing area.
Special reinforced glass was used on floor-to-ceiling walls to avoid cracked panes from wayward golf balls.
The Queens Crescent estate is protected by a gatehouse and code-operated electric security gate.
Mr Malcolm could not be reached for comment. Workmen at his home declined to speak.