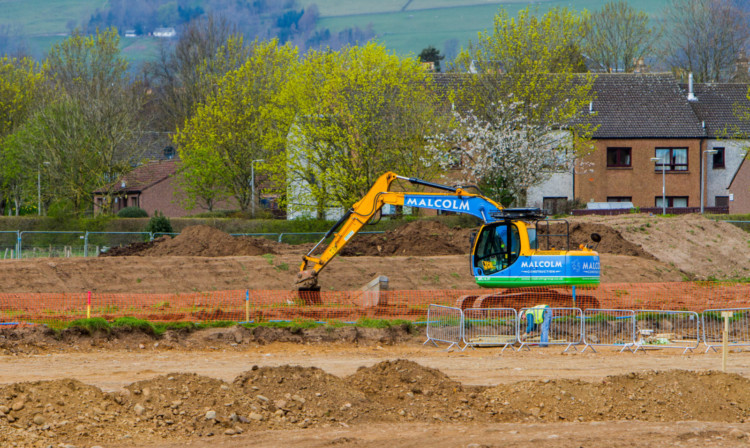 Archaeologists are ecstatic after uncovering a "really significant" Bronze Age burial site in Perthshire.
Arrowheads believed to date back to between 2,500BC and 800BC have already been found at the site of the new Crieff Primary School, and experts hope to unearth more historic items in forthcoming weeks.
One "definite" prehistoric burial site, known as a cursus a Bronze Age ceremonial monument walkway has been identified and archaeologists are hopeful there will be more finds to come.
Sarah Malone, a heritage officer with Perth and Kinross Heritage Trust, told The Courier last night that archaeologists had been at the Crieff site since last year.
"We have been working at the site for a while and this is a really significant find," she said.
"We have identified one definite prehistoric Bronze Age burial site here and will probably find more items.
"Last year we discovered Bronze Age arrowheads and some kists."
Ms Malone said that archaeologists were still excavating at the Crieff site and confirmed it is part of a "Bronze Age landscape".
"It is quite exciting," she added.
Local historian Colin Mayall said: "That whole area is a site of great historical interest. It is the site of more than one cursus, which can date back some 6,000 years.
"Cursus are now regarded as a type of sacred walkway, with earthen walls which could have extended for miles.
"More recently it was also the ancient site of the Stayt of Crieff, where the Earls of Strathearn held their courts.
"I feel these finds are all relevant, not just in a local sense but on a national and, indeed, international archaeological stage."
Perth and Kinross Council confirmed that excavations are currently taking place.
"Archaeological works being carried out on the site for the new Crieff Primary School have indicated the presence of what are believed to be prehistoric burials potentially from the early Bronze Age," a council spokesperson said.
"Further assessment of the site to confirm these initial findings is ongoing at present."