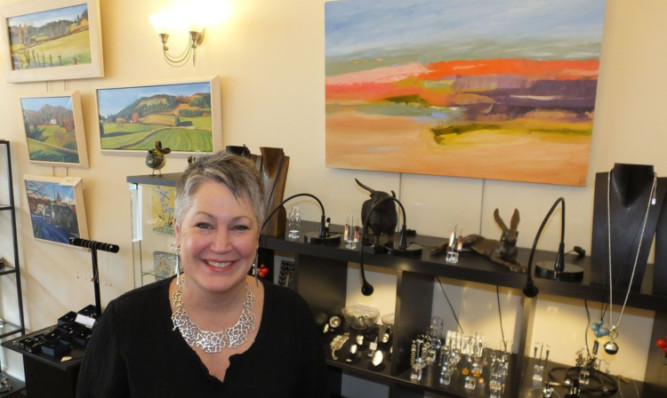 Pitlochry is launching a new nine-day summer art festival which it is hoped could attract thousands of tourists to the town.
The Pitlochry Art Walk Festival has been backed by 18 businesses to help increase footfall and support Scottish artists.
The festival is the brainchild of Annie Stenhouse, owner of the new Melt Gallery in Bonnethill Road, Pitlochry.
It looks to ape the success of Pittenweem Art Festival, which was started in 1982 by a few artists and today attracts 25,000 visitors over a nine-day period each year.
Annie said: "I thought something similar to the Pittenweem Arts Festival in Pitlochry would work.
"I approached local businesses and asked them to donate some of their space for an artist to display their works, or work, during the festival.
"We have had a fantastic response with 18 businesses having agreed to donate space.
"The next stage is recruiting of the artists. I know this will not be difficult as Perthshire and Scotland has many superb artists.
"When they heard I was opening my gallery in Pitlochry last December, I had more than 60 different artists approach me.
"This is all very exciting."
Pitlochry businesses were asked to donate a small space in which an artist will set up, market and, in some cases, produce their art or craft during the festival.
Donated space ranged from a section of wall for paintings, space in a shop window, or a floor space. Artists will be matched to host businesses, depending on the space donated.
Each participating business will have its own unique number that will correspond to a Pitlochry Art Walk map of the town and a description of each artist and business featured on the walk. This will ensure that all participating businesses and artists will benefit from the extra footfall over the duration of the festival, which will run from June 20 to 28.
All participating businesses are within walking distance of the town centre, which includes the loop to Pitlochry Dam and the fish ladder.
Any local artists or people with a venue within walking distance of Pitlochry town centre who would like to be involved, can contact Annie Stenhouse at the Melt Gallery, 14 Bonnethill Road, Pitlochry, or, alternatively, she can be reached via email on anniethejewel@gmail.com, or by calling 01796 472358.