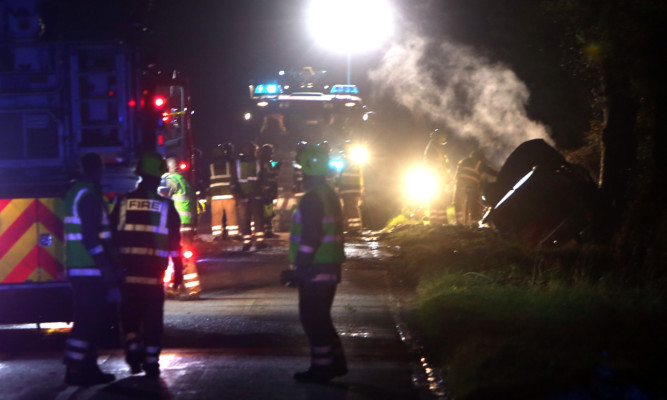 Rescuers who battled to pull a trapped woman from her burning vehicle were almost driven back by the intense heat.
Brian Brown was one of the motorists who stopped at the scene of the head-on accident near Guildtown on Monday and rushed to help.
The badly damaged vehicles had ended up in a ditch at the side of the A93 and were beginning to smoulder with the woman and child still inside.
"People were flashing their lights coming towards me so I knew something had happened, then I came across the accident," said Brian, 51, who had been making his way home from work as a joiner at Island Leisure, Dalcrue.
"There were already two lads helping and they had got the wee girl out. We tried to get the lady out. I was trying to pull her out of the front side window but her leg was trapped.
"We managed to get the rear door open behind the driver's door and one man was in the ditch trying to get her foot out. I put my head and hand into the car, trying to free her, but she was just jammed.
"The car was already smouldering. I was quite sure it was going to ignite any minute, it was getting closer and closer."
Mr Brown said another passerby joined in their frantic efforts and a vehicle pulling a chain was used to try to pull the car door off but they were unable to find anywhere to hook it. "The flames started, it was an inferno," Mr Brown said.
He rushed to ask other people who had stopped to see if they had an extinguisher and at that stage the woman was still in the car. "I do not know how she got her foot free, the flames were everywhere," he said.
"It was so frantic, I thought it was going to blow up in flames. It was just horrendous, it was a nightmare. It was the other two brave chaps who must have pulled her out."
At the scene of the accident, Perth Station Commander Bob Rearie of Scottish Fire and Rescue Service praised those who stopped. "The occupants of the car were extremely lucky, if it wasn't for the bravery of the passersby it would have been a different story," he said.
It emerged that two of the other heroes were from a haulage and parcel company in Midlothian. One of them, Steven Mitchell, said on social media that getting the woman free before the flames engulfed the car was "a miracle".
Inspector Ian Martin of Trunk Roads Policing North, said: "It is always amazing how willing the public are to step up and assist people in their time of need with their selfless actions.
"I know it is the intention of Police Scotland to ensure that the actions demonstrated by those yesterday are rightly acknowledged."