 Communities across Tayside and Fife are to be made priorities for flood prevention schemes as the Scottish Government looks to spare them future flooding devastation.
The projects will tackle flood risk in Dundee, Broughty Ferry, St Andrews, Arbroath, Milnathort and Scone and across south Kinross-shire.
They are being fast-tracked by the Scottish Environment Protection Agency (Sepa) for funding by the Scottish Government and it hopes to see them taken forward in conjunction with local councils over the next six years.
The schemes are part of a wider £235 million action plan to protect 10,000 properties from flooding, announced by the Scottish Government.
Its Flood Risk Management plan contains 14 local strategies identifying vulnerable areas across the country and proposals for 42 major flood protection schemes or engineering works.
Environment Minister Aileen McLeod said: "Our plan is designed to improve the way we tackle the risk of flooding across the country protecting more homes, businesses, communities and livelihoods.
"For the first time we have a nationwide plan, informed by local communities to tackle flooding."
In Dundee, new sea walls and rock armour will be installed at Broughty Ferry, where sand dunes will also be replenished, and new defences will also be created on the city's waterfront.
Flood defences will be improved in Arbroath and new flood storage areas created to guard against flooding from the Brothock Water, while in St Andrews, the work will protect homes and businesses from the Kinness Burn.
Four schemes will be taken forward in Perth and Kinross where they will defend against surface water flooding at Milnathort and from the Annaty Burn in Scone, where riverside defences could be introduced and existing footbridges raised.
Flood defence walls could also be created in South Kinross-shire as a response to the threat from South Queich, the Gelly Burn and Clash Burn and in Comrie to protect the community from the Water of Ruchill, River Earn and River Lednock.
Terry A'Hearn, chief executive of Sepa, said: "The Flood Risk Management strategies have been developed to help reduce the damage which flooding can cause, and are more important than ever given the recent flooding.
"The strategies co-ordinate the efforts of organisations that tackle flooding and concentrate this work to where the risk of flooding and the benefits of investment are greatest."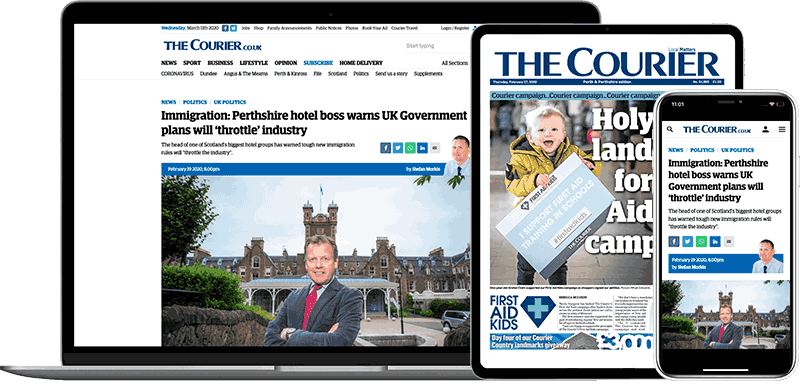 Help support quality local journalism … become a digital subscriber to The Courier
For as little as £5.99 a month you can access all of our content, including Premium articles.
Subscribe