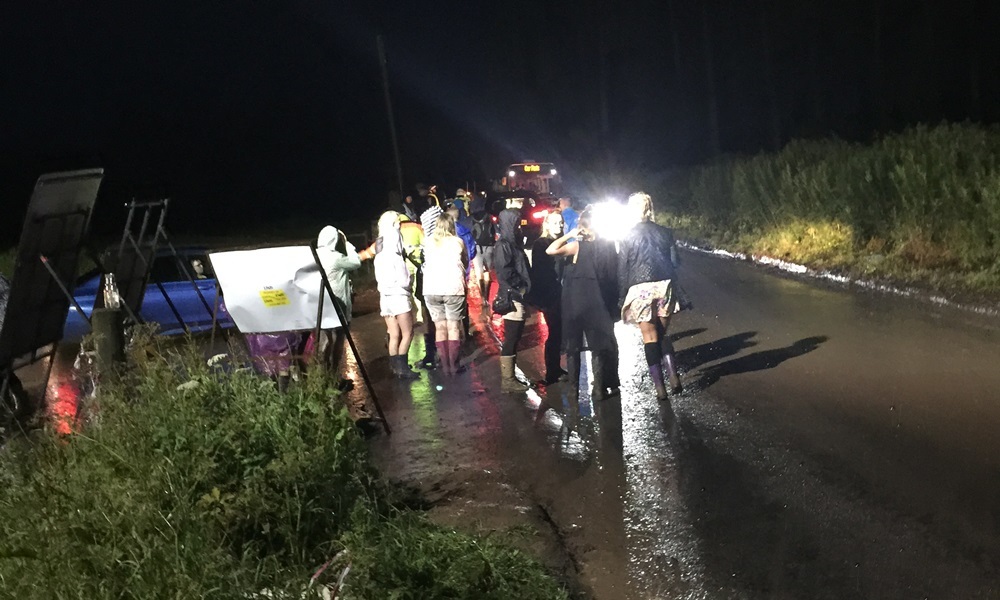 T in the Park has been inundated with bitter complaints and demands for refunds after another chaotic night for fans trying to leave the Strathallan site.
Festival organisers had apologised and pledged improvements on Saturday after fans faced long delays on Friday night.
However, it seems Saturday night was even worse, with wet weather turning the exit routes for cars into mudbaths.
https://youtube.com/watch?v=gdID0bjbOQY%3Frel%3D0
The festival's Facebook site has been bombarded by complaints from people who attended and from those who faced a near impossible task to get to the site to pick up loved ones.
Hundreds of people have described delays of up to five hours, with many saying young and vulnerable teenagers were left stranded in the dark on rural roads as the festival's traffic management plan descended into farce.'Disgusted'Jane Frett posted: "An absolute shambles. My daughter stood for three hours while we battled through the horrific traffic, with no help from anyone.
"I am disgusted tonight and the pick-up route taking us to Perth to start with.
Chaos in the #TITP2015 car park as hundreds of vehicles become stuck in the mud and have to be towed by tractors. pic.twitter.com/zqFrise308

— Radio Tay News (@RadioTayNews) July 11, 2015
"This event should be closed down … Girls crying and cold standing at the side of the road whilst the traffic is at a standstill, parents running and walking frantically trying to get to the pick-up point.
"You as an organisation disgust me and we will never be back."'Horrendous'Kimberley Stirling added: "Absolute disgrace Titp! I am now lost for words what nightmare I have been through tonight. Horrendous!"
T in the Park issued more apologies as the chaos unfolded, saying: "We'd like to apologise for any delays you may be experiencing as you leave T in the Park tonight.listen to 'TITP: Drivers help each other out of the muddy car park' on audioBoom"The wet weather is making it difficult to get you all out as quickly as we hoped but we are doing our best and with the help of some tractors and ground chips, we should have you away as soon as possible."'Very sorry'And in an update at nearly 4am, it added: "We are very sorry that some of you are still waiting in queues at the pick up/ drop off areas. We are working hard to get vehicles moving and will have an update for you as soon as we can. Once again, we are so sorry!"
But these words did little to appease many fans who have vowed never to return to the festival.'Terrified kids'Tracy McArthur said: "I am truly disgusted by your companies/representatives reaction to the situation there were hundreds of terrified kids left in the freezing cold and pouring rain.
"My 16-year-old daughter was left in that for over four hours! One steward actually told her that the buses were no longer coming and she was to walk to Auchterarder."
She continued: "She asked stewards repeatedly to phone me and they refused. Eventually when she was hysterical a police officer called me.
"The things she has had to see and deal with tonight are unbelievable … DF Concerts should have plans and procedures for emergency situations such as this.
"You have failed Strathallan and your customers."Expert's traffic concerns were rejectedThere have been long-standing concerns about whether the roads around the Strathallan Estate would be able to cope with the amount of traffic generated by Scotland's biggest music festival.
Last August, T in the Park rejected the concerns of traffic expert Andrew Carrie, who warned that the narrow rural roads were not suitable.
In response to Mr Carrie, a festival spokeswoman had said: "We have a highly experienced traffic management team that designs plans for major events all over the UK.
"One of the key deciding factors on choosing a new venue was ensuring that it had a workable traffic route to ensure ease of travel for both festival-goers and the local community."
Traffic concerns were also one of the reasons local couple Mark and Kim Liddiard threatened legal action against the plan to move the festival to Strathallan.
Last Julythey told The Courier that organisers needed to be able to show the festival could be staged at the site safely.