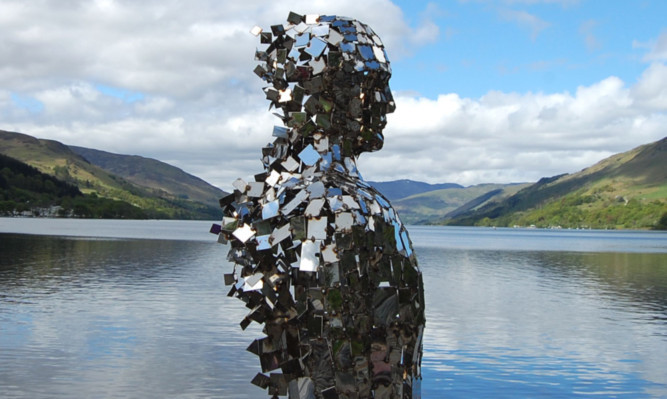 An iconic mirror man sculpture feared to have been destroyed by gale-force winds has returned to its home on the edge of a Perthshire loch.
The larger-than-life statue at St Fillans known as Still disappeared after 90mph storms in January.
The nearby Four Seasons Hotel, which commissioned the installation, issued a plea on social media for its safe return. The cyborg-like piece was later found lying underwater, not far from its original standing point.
Still's creator, Glasgow-based artist Rob Mullholland, recovered his half-tonne statue from the water and took it back to his workshop for repairs. This involved re-attaching the head and welding some parts which had been battered out of shape.
After an absence of nearly four months, the mirror man, as he is affectionately known locally, is back where he belongs.
Mr Mullholland said his sculpture had undergone "extensive surgery" and was put into place by a team of four men.
Still has been fastened into position with concrete blocks, although he may be put into hibernation over the winter months to avoid further storm damage.
"It's great that people were missing him," Mr Mullholland said. "The hotel had a lot of folk coming in asking where he was."
The idea behind the fragmented, mirrored structure is to give the appearance of constant change, reflecting light and rippling water. The tiny tiles which make up the figure were specifically designed to allow wind to flow through.
His original floating foundation is thought to have tipped over in high winds. The permanent artwork was commissioned by the hotel after four earlier, temporary installations had proved popular with visitors.
Still's arrival in 2014 was celebrated with a photography contest for visitors.