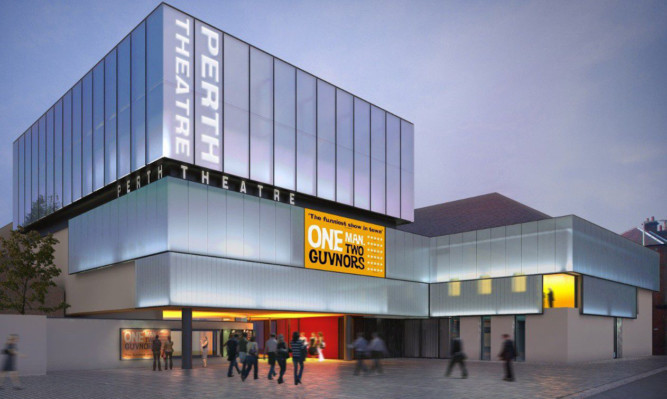 Courier country culture has received mixed news with the allocation of arts funding from Creative Scotland.
Dundee Contemporary Arts, Dundee Rep theatre and the Scottish Dance Theatre that operates out of the Rep all received a boost in annual funding for the next three years.
Horsecross Arts in Perth has found itself with a grant reduction of 30%, but a one-offcontribution of £2 million to help withrestoration of Perth Theatre, meaning they are only £1.5 million away from their£15 million goal.
Hospitalfield Arts in Arbroath received £100,000 per year to continue operating the arts centre out of historic Hospitalfield House. Fife Contemporary Art and Craft also received the same three-year funding.
Pitlochry Festival Theatre was awarded regular funding of more than £1.25 million over three years.
Clive Gillman, director of DundeeContemporary Arts, said: "We were delighted to receive almost a 15% increase in funding, which will allow us to do much more.
"We now have to think about how to move forward with a new cultural strategy.
"Dundee is in the midst of a regeneration, with an agenda for culture and the creative arts, and we want to be very close to that."
Lucy Byatt, director of Hospitalfield Arts, said: "Whilst we still have quite a task ahead of us to achieve the funds that we require to support our programme at the level that we aim for, this investment gives us a new degree of financial stability that will enable us to establish our longer term plans."
The awards come as part of a£100 million boost to 119 organisations in the Scottish arts scene through Creative Scotland.
Mr Gillman said: "We have a fairly good situation in Scotland, where funding is defended because we have a sense of the value of investing in arts."
Janet Archer, chief executive of Creative Scotland, said: "Importantly, theseorganisations will also provide significant support for thousands of individual artists and the broader workforce acrossScotland's creative sector."
In Dundee, the grants were hailed as a reshaping of the culture sector following the city's failed City of Culture 2017 bid.
Discussions will take place withCreative Scotland about how best to use the large grants given to the DCA, whileHopitalfield Arts will use the money to work on larger and more ambitiousprojects.
Magnus Linklater, chairman of Horsecross Arts the independent body which runs Perth Theatre and Perth Concert Hall said while he was delighted by Creative Scotland's confirmed contribution to the theatre he was "disappointed" with a 30% cut in the revenue grant for the two venues.
While the project to transform one of Scotland's oldest theatres is on track for completion by 2017, Horsecross will now receive only £1 million in grant aid over the next three years over £400,000 less than they had hoped for.
The funding body maintains that while the theatre is closed for restoration Horsecross requires less cash, a stance which Mr Linklater said missed the point of their efforts to build and maintain audiences.
"Their rationale is that we are operating one venue rather than two," he said.
"What this ignores is that we have ambitious plans to produce high-quality drama over the next three years to ensure audiences do not miss out while the theatre is closed.
"Rather than standing still, we want to build audiences by continuing to offer a wide range of productions in different venues."