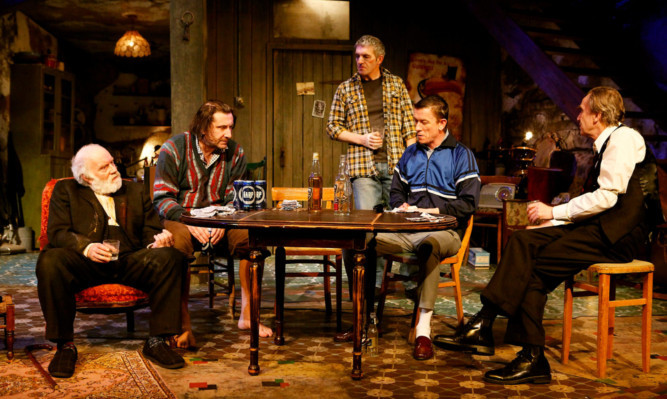 Perth Theatre's ambitious production of the Seafarer scooped two awards in the 2013 Critics' Awards for Theatre in Scotland (CATS).
The presentation of Conor McPherson's play earned Perth both the best director and best ensemble awards during the sell-out award ceremony at Edinburgh's Traverse Theatre.
The best director award for Rachel O'Riordan cemented her position as one of the finest and most visionary directors in the country.
A spokeswoman for CATS said: "O'Riordan bypassed any temptation to keep things merely ordinary, opting instead for a fearless approach which allowed her all-male cast to soar in what was clearly a labour of love."
The five actors of the cast picked up the best ensemble award for their performances.
Acclaim also went to Aberfeldy son Alan Cumming who clinched this year's best male award for his one-man Macbeth, dubbed: "One of the most memorable moments in Scottish theatre this year."
Speaking from New York, where the play is currently running, he said: "I'm very grateful to the Scottish theatre critics, especially as Macbeth is the thing I am most proud of in my whole career.
"Thank you very much, it really means a lot to me for something I feel so proud of to be honoured by my country."
Pitlochry Festival Theatre's music director Hilary Brooks won the best music and sound award for her full-scale Hollywood musical production of White Christmas.
The considerable contribution to theatre for children and young people being made by the macrobert, Stirling, was underlined as it won the award in this category for the second year running.
Its production of Sonata for a Man and a Boy was described as "funny, inventive and ultimately profound."
This year's CATS, presented by leading playwright John Byrne, also marked the 50th anniversary of the Traverse.
CATS co-convener Joyce McMillan said: "That nine different productions are recognised in the 10 award categories speaks volumes about the calibre of work being produced across the country."