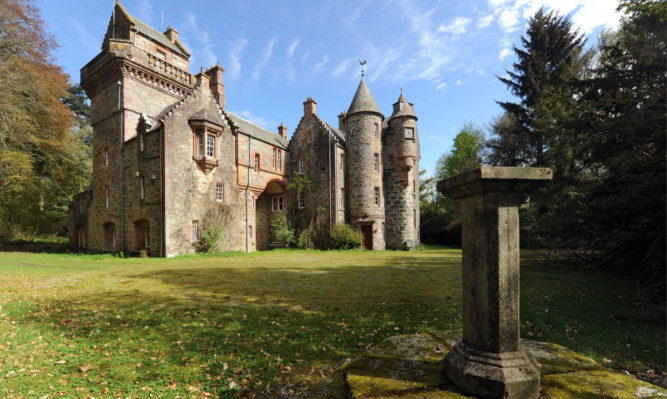 A country castle that once played host to a celebrated prime minister has gone on the market.
B-listed Blackcraig Castle boasts 10 bedrooms, a walled garden and its own observatory. Buyers would also be able to take over trout fishing rights on a stretch of the River Ardle.
In 1893 the castle was visited by four-times Liberal prime minister William Gladstone who had already founded nearby Glenalmond College and a stone bench near the entrance is known as "Gladstone's Seat" to this day.
However, the estate agents behind the sale, CDK Galbraith, warn that the property is in need of "some upgrading".
Owner Malcolm MacLaren said the property had been in his family since 1937 but spiralling upkeep costs had forced him to put it on the market.
He said: "My grandparents divided their time between Blackcraig and their home in Dundee.
"Once the building passed to my late mum she, initially with her late sister, decided to open for guests and she ran Blackcraig as a guesthouse every summer for the better part of 50 years, spending the rest of her time either in Dundee or in Edinburgh.
"She loved looking after her guests and opening our home to them and a look at the visitors' books shows how much people enjoyed staying there.
"The building has played an important part in my family's story my mum and dad met there and my wife and I got married there, we have met people from all over the world and made many lasting friendships, people who have become members of the extended Blackcraig family.
"Sadly, my mum passed away in November 2008 and although I had hoped to hold on to Blackcraig,the costs involved with the building have proved to be too great and so, regrettably, I have put the building on to the market.
"I will always have very happy memories of summers spent there and of the part the building has played in the lives of me, my family and friends. It is now time for the next chapter in Blackcraig's story to begin."
Emma Chalmers, of CDK Galbraith, told The Courier: "This is a very romantic Scottish castle. "Obviously it needs a programme of renovation undertaken but it will make the most fantastic family home.
"The gardens are delightful, with a walled garden and two parkland fields, all of which stands in a highly scenic area of rural Perthshire."