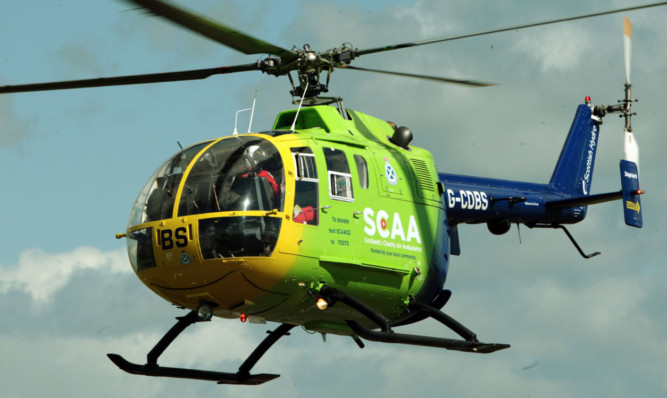 An emergency call to Highland Perthshire on Sunday saw Scotland's Charity Air Ambulance (SCAA) fly its milestone 100th mission.
The country's first and only charity-funded helicopter air ambulance reached the operational landmark less than 12 weeks after its launch at the end of May.
SCAA is now firmly established as a key element of Scotland's nationwide emergency response network, flying to incidents from its base at Perth Airport.
Chief executive Gavin Davey said Sunday's callout proved what a valuable addition the charity helicopter has been to the emergency services.
"We have established ourselves as a safe, reliable and efficient charity air ambulance very quickly," Mr Davey said.
"Flying 100 tasks in less than three months proves that there is a need for this additional asset in Scotland.
"SCAA's work is impacting on the lives of hundreds of people right across Scotland, either directly with patients or indirectly with relatives, friends and colleagues.
"More than half our workload has been to serious trauma cases, flying all over Scotland to those involved in time-critical emergencies and transporting them to hospitals by the quickest possible method in our Helimed 76 helicopter.
"Emergency missions have seen the crew respond to a wide variety of incidents including car and motorcycle accidents, medical emergencies such as heart attacks and breathing problems, trauma emergencies such as serious falls, head injuries and even a light aircraft crash," Mr Davey added.
"In most cases we have lifted casualties and in others we have provided medical help at the scene, often in difficult and demanding locations."
SCAA senior pilot Russell Myles gave some details of a busy 12 weeks for the flight crew, with 100 callouts seeing the distinctive Bolkow 105 charity helicopter record nearly 9,000 miles in around 72 flying hours.
"Our busiest day to date saw us make three emergency flights within a few hours, while our furthest responses have been to Mull, off the west coast, and to Gatehouse-of-Fleet in the extreme south-west of Scotland," Mr Myles said.
"Our work has taken us to most parts of Scotland, from the Highlands and Islands to the east coast and the Borders, and we have transferred patients to hospitals right across the country including Glasgow's Western and Southern Generals, Edinburgh Royal, Aberdeen, Oban, the Borders and Dundee's Ninewells."
During the 100 operations the helicopter has landed on motorways, country roads, fields and public spaces such as car parks and games pitches.
It has even landed at the top of Cairnwell Mountain at Glenshee and the middle station of the Cairngorm Mountain Railway to get paramedic care and speedy hospital transfer to patients.
Of the 100 emergency calls responded to by SCAA, 71 have been for trauma cases, 11 for medical, five for severe heart attack, 12 for cardiac and one for stroke.
Extreme weather conditions have thwarted the crew on only a couple of occasions.