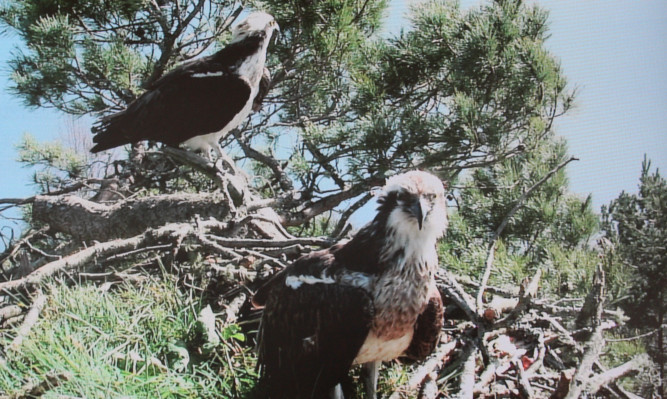 Age triumphed over youth as the UK's oldest breeding osprey was forced to defend her lofty position above a Perthshire loch.
The 28-year-old raptor, known affectionately as Lady, put on a fearsome display as a cheeky younger bird attempted to take over her nest.
Feathers flew as the female osprey landed beside the elderly matriarch and her mate, forcing Lady to show who was boss.
Wildlife interpretation officer Lindsey Gibb, who is based at the Scottish Wildlife Trust's Loch of the Lowes reserve, told The Courier: "All three of them were on the nest briefly.
"There was a lot of mantling and unhappy behaviour. What was quite unusual was that, when the young bird flew on to another tree, the male joined her before she disappeared again."
Lindsey revealed that the resolution to this disagreement was "fairly amicable" compared to battles Lady has faced in the past.
"If the other female had hung around any longer, however, her tolerance would have been pushed to the limit," she added.
There are no fears that Lady will give up her claim to the nest, which has been her home for 23 years, especially when she is due to lay her 65th egg any day.
The fiercely protective osprey beat off an intruder with her wings last year, despite being unable to leave her clutch off eggs. It is hoped she will show this same fighting spirit this year and go on to fledge her 50th chick.
Lindsey said: "It's very exciting 50 chicks would just be an incredible success rate because your average osprey will only raise half that number."
To keep up to date with osprey news, go online to blogs.scottishwildlifetrust.org.uk/osprey.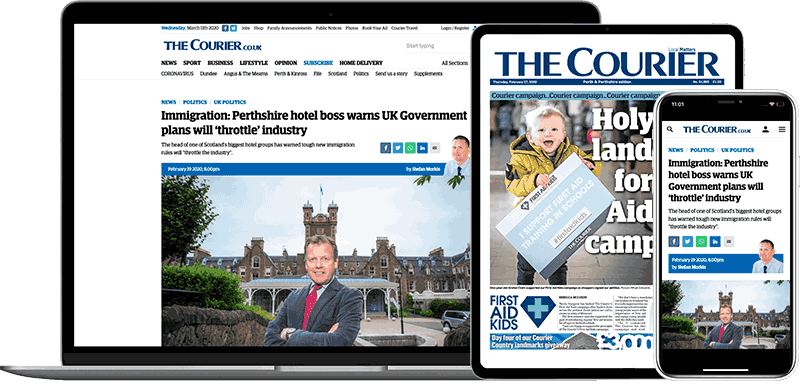 Help support quality local journalism … become a digital subscriber to The Courier
For as little as £5.99 a month you can access all of our content, including Premium articles.
Subscribe