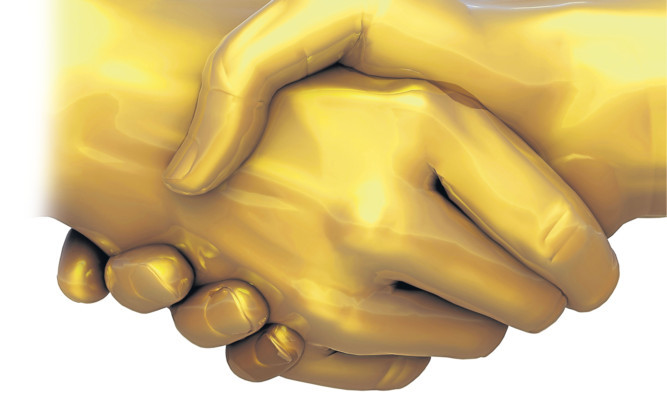 Senior management at councils in Tayside, Fife and Central Scotland were paid almost £6 million of public money in just one year, according to a report published.
The Town Hall Rich List 2013 also revealed a former Dundee City Council boss received more than £335,000 in just one year as she prepared to retire from the authority as part of a cost-cutting initiative.
And the document stated the number of Fife Council staff earning more than £100,000 shot up from nine to 14, a claim disputed by the local authority.
Ex-deputy chief executive Patricia McIlquham received a salary of £105,745 in the financial year 2011/12. She was also given an add on of £25,304 as early retirement compensation and a £204,419 pension contribution.
Ms McIlquham was one of five senior figures to depart the council under a re-organisation that saw the number of departments reduced from 10 to six, with an organisation set up to run leisure and cultural services. She left her post last summer.
A spokesman for Dundee City Council said that, since 2010, the authority's early retirement and voluntary redundancy scheme has generated ongoing annual budget savings of £8.2 million, with all moves governed by general employment law and pension regulations.
He added: "The most recent applications to the scheme are still being processed and will generate further annual savings."
Fife Council's head of human resources, Sharon McKenzie, said the figures presented in the report are "skewed" because they include every element of remuneration, including redundancy packages and pension contributions.
She added: "We currently have six employees with salaries over £100,000, a reduction of three from March 31, 2012 and not 14 as reported by the Taxpayers' Alliance.
Ms McKenzie added the authority had "reduced the number of chief officers at the council by 24%" over the last five years.
TaxPayers' Alliance chief executive Matthew Sinclair said: "Sadly, too many local authorities are still increasing the number of highly paid staff on their payroll, some of whom are given hundreds of thousands of pounds in compensation just to move from one public sector job to another."
According to the report, 12 staff at Dundee City Council earned more than £100,000 in 2011/12, compared to 15 the year before. Over the same time period, that number dropped by one to nine in Angus, rose from four to five in Perth and Kinross and went up from eight to nine in Stirling.
Angus Council has recently undergone a major streamlining of its management structure, which a spokeswoman said is delivering ongoing annual savings of £358,000. The new changes are not reflected in today's report.
She added: "This reduces the number of officers, whose total remuneration is over £100,000, to six."
A spokesmanfor Perth and Kinross Council said: "The salaries for chief officers are agreed individually by each council taking into account the salary of their chief executive and nationally-agreed pay bandings."