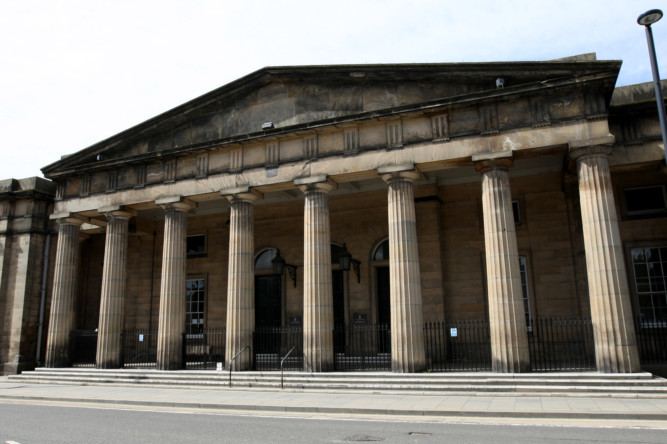 A pensioner caught with his hand up a horse's rear end told witnesses that he was "very lonely".
Members of the public, including four young children, were left horrified after spotting William Nicoll carry out the bizarre attack.
He was seen on several occasions throughout July 9 last year approaching a foal and inserting his hand up its bottom.
Nicoll, of Kincardine Road, Crieff, admitted that on July 9 at the Holdings on Maxton Road, also Crieff, he conducted himself in a disorderly manner by entering a field containing three horses, approaching one and lifting its tail to repeatedly insert his hand up its bottom.
Sheriff Michael Fletcher ruled there was a "significant" sexual element to the offence. He placed the accused on the sex offenders register and deferred sentence until July 10 for reports.
Perth Sheriff Court heard how 66-year-old Nicoll was "so engrossed" in his task he was not aware of a mother and her four children approaching until they were right beside him.
When he did finally notice them, Nicoll started to pat the young horse and claimed he was tending to some wounds it had suffered.
As she walked away, the woman looked back and saw the accused return to the horse's rear end.
Later the same day, a woman whose house overlooks the field on Maxton Road in Crieff observed the pensioner in the field. As she watched, he lifted the foal's tail and put his hand up its bottom.
Depute fiscal Carol Whyte told the court: "She continued to watch to make sure that was what the accused was doing and she wasn't imagining it.
"During time, a number of people walked past and each time the accused would stop and pat the foal until no one was watching and then put his hand back into its anus.
"The foal was trying to move away but the accused would follow."
Finally, the owners of the horse were contacted and when they confronted Nicoll about his behaviour, he replied: "I live at home by myself and I'm very lonely".
Defence agent Alison Mackay revealed her client had learning difficulties and said he was seen as "fairly odd" within the Crieff community.
Since committing the offence, he has attended at the Craigowl Centre in Dundee and discussed the incident with a social worker.
Ms Mackay said: "He is adamant there was no sexual element involved. He tends to have grand old ideas and he takes the view he is a part-qualified vet because he has worked with animals in the past.
"He saw these horses, was effectively keeping an eye on them and was concerned about the foal. It is in these circumstances he finds himself in court, having acted in the manner libelled."