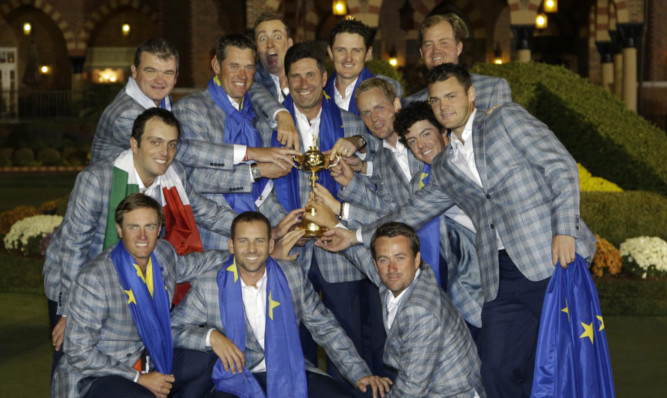 Hundreds of Scots are being sought to join an army of volunteers at one of the world's greatest sporting events.
And it emerged that those keen to help at the Ryder Cup at Gleneagles next year will be asked to pay £75 for the privilege.
Europe's top golfers will be bidding to retain the trophy secured in such dramatic style against the USA at the Medinah Country Club, near Chicago, last September.
The event has a huge global television audience, with only the Olympics and football World Cup being watched by more people.
National tourism agency VisitScotland believes the golf tournament will provide Perthshire, and Scotland as a whole, with a once-in-a-generation marketing opportunity.
Conservative estimates suggest the event, likely to be attended by around 250,000 spectators, will add more than £100 million to the Scottish economy.
The search is now on for 1,800 volunteers keen to play their part in sporting history.
Golf fans are being sought to take on a variety of roles both on and off-course, including scoreboard carriers, park and ride volunteers, crowd safety marshals, and buggy shuttle drivers.
They will join a 7,000-strong team of employed staff, marshals, volunteers, emergency service personnel and media representatives.
Edward Kitson, match director for the 2014 Ryder Cup, said: "The Ryder Cup is a unique event that stirs the passions of players and spectators in a way unlike any other sporting occasion.
"This makes volunteering at it very special. It's a chance to be a part of history and to welcome the world to Scotland.
"The volunteers at the 2014 Ryder Cup will be the public face of the match. They will be the first and last people our spectators see.
"Naturally, some of the roles require specialist experience, but while some knowledge of golf would help, in most cases the main criteria is a positive attitude and genuine desire to be involved in one of the world's great sporting events."