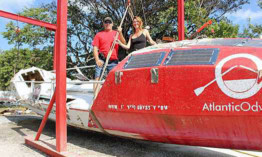 The boat on which Mark Beaumont made his failed Atlantic crossing record attempt should have been left in the ocean, the Perthshire adventurer has said.
He said it would have been more fitting had the Sara G had been left in the water instead of being hauled ashore earlier this week.
The 36-foot rowing boat was salvaged by Mark Hutchings after a year on the waves.
Riddled with holes some caused by bullets as people tried to sink her the Sara G could now be incorporated into Mr Hutchings' beachfront restaurant.
Mark said: "It's amazing she stayed afloat all year and stayed in one piece. I wish she had sunk and was never recovered."
His last sight of the vessel was as it drifted away following the six-strong crew's escape when it capsized during their attempt to row the Atlantic in record time last January.
Mark had to make several dives into the hull to recover potentially lifesaving gear to take on to their life raft.
He said: "We were so lucky to live through it. When the accident happened it was incredibly dramatic and we all felt the best place for the Sara G was to stay in the ocean.
"The worry is that she is not seaworthy now but someone tries to do something with her. You could never send her back to sea and I wouldn't want anyone doing anything silly with her."
Mr Hutchings said some possessions, including cash and wallets, was recovered from the boat and he will return it to the owners.
Mark said: "I believe they're sending back bits and bobs. Because the hatch doors were open when the wave hit, I doubt there is very much left. I had nothing of value.
"The rules of the sea say if you salvage it, it's yours."
The Sara G was overturned and flooded by a freak wave with just 500 miles of the voyage to go.
Mark has vowed never to make the attempt again, although crewmate Ian Rowe hinted he may make another shot at glory next year.
A current attempt to break the 32-day record featuring Abernethy man, Benno Rawlinson, is now past the halfway stage after 19 days.
Mark said "I know (skipper) Leven Brown and (crew member) Levar Nysted, and they are as tough as they come, and if anyone can break the record it's them.
"I wish them all the best. I wouldn't do it again, though."