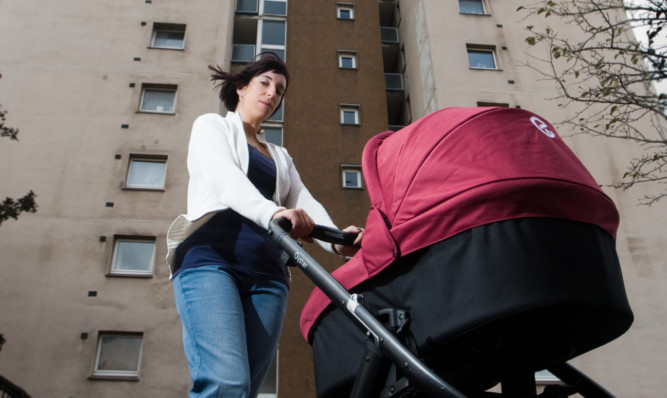 A Perth couple say they are at the end of their tether as they have to put up with a "noisy, dirty block of flats" and the anti-social behaviour of some of their neighbours.
Nicola Brand (23) and her husband, Matthew (26), of Pomarium Flats, Pomarium Street, feel they have been left to "fester" in the "unsuitable, cramped flat".
The family have two children, Leo (4) and six-month-old daughter Freya, and have hit out after claiming they have anti-social tenants below them who are "constantly drilling or hammering" and people above them playing "blaring" music for hours.
"It's a living nightmare here and we feel the council are just ignoring us," Nicola told The Courier.
"My son has never got use to the loud drilling noises and wakes up terrified when this happens. Lack of sleep greatly affects concentration and so my husband often goes to work like a zombie and I am left with two small children and the constant urge to break down and sob."
Mrs Brand said the situation has been made worse by people knocking at their door and asking them if they deal in drugs.
"This is a very frightening experience for myself and my son, who now lives in fear of the doorbell ringing and getting into the lift," she added.
"I no longer answer the door unless someone calls me beforehand as being on my own when my husband is at work makes me feel increasingly vulnerable and alone.
"Lack of space means the baby's car seat and other essentials have had to be stored in my son's tiny single room, which makes reaching/finding his toys and having an area to play impossible.
"Despite trying other ways to gain a three-bedroom property, including applying for a mortgage and trying to find an affordable private rent, we are still living here and this is bringing my husband and myself to breaking point."
Mrs Brand who previously hit out at a broken lift at the complex said they live next door to a "halfway house" and this has led to various problems.
"The council tenants that live there change every few months and so we are never sure who we are living beside," she commented.
"Past residents have been alcoholics, which have harassed my husband or myself.
"We also have next to no room for drying clothes. The constant wet weather has forced us to buy three clothes horses, taking up even more room and causing mould to grow around the windows as a result of so much moisture in the air.
"I am now feeling so low about being overcrowded that I struggle to complete everyday tasks. We are a hardworking family who pay our taxes and try and make the best of most things.
"We unfortunately no longer have the energy to try and make the best of our flat."
A spokesperson for Perth and Kinross Council said they will not discuss individual tenants.
"Unfortunately, there is acute lack of family housing in Perth and Kinross, both in the social rented and private rented sectors," he said.
"Each year around 400 council tenancies become vacant, but with approximately 5,000 households on the waiting list we are not in a position to offer a house to everyone who wants one.
"We work hard to rehouse families wherever it is possible. Everyone who applies for housing is offered a housing options interview. On the issue of anti-social behaviour, no one needs to put up with disturbance.
"If any residents are experiencing anti-social noise, they should call the council's anti-social noise service on 01738 476 476 (office hours) or 01738 476 173 (out of hours).