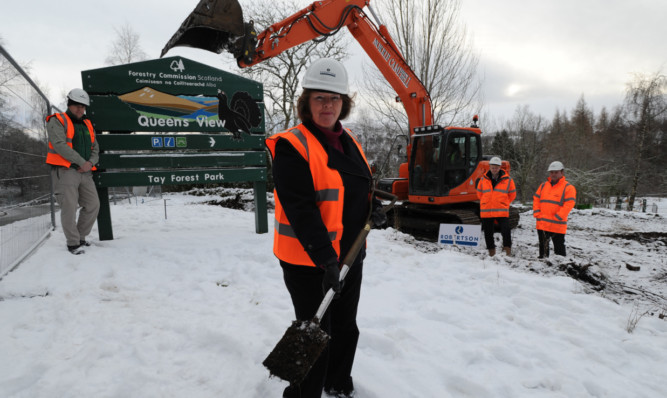 The £1 million refurbishment of one of Perthshire's prettiest spots is under way.
Visitors to Queen's View, at Loch Tummel, are to benefit from a redesigned car park and better caf and retail space, which are expected to be completed in little more than a year.
Local councillor Kate Howie broke the ground on Thursday to mark the start of the work on the car park.
She said: "The Queen's View and the visitor centre are one of Perthshire's most renowned tourism assets, welcoming more than 150,000 visitors to the region each year.
"The tourism industry is a very competitive one and this refurbishment will ensure that Queen's View will be fit for purpose in the 21st century and better able to welcome even more visitors to the area."
Work on the buildings will take place after the summer season has ended.
Hamish Murray, of the Forestry Commission, which owns the centre, said: "There has been a lot of planning and behind-the-scenes effort put into this, so it's great to finally be getting down to doing the work.
"We will be closed completely until March this year, but we will be open for the summer season and, although we expect to have completed all of the phase one work by then, the site might still be hazardous.
"It's important that visitors follow the guidance on the signage we don't want anyone to get hurt, or any vehicles to get damaged.
"It will still be the same centre that people know and love, but it will be a bit smarter, a bit more welcoming and more able to deal with the visitor numbers that pass through the doors."
The history of the area will be preserved as the work is also being monitored by on-site archaeological consultant Rebecca Shaw.
She said: "It is the site of a former farmstead called Ballinluig that is visible on the 1860 map of the area. Building and enclosures are shown and I will record what is found as the work proceeds."
Early excavations have uncovered a perfectly-preserved 19th century ink pot, as well as numerous pieces of pottery and ceramics.
arichardson@thecourier.co.uk