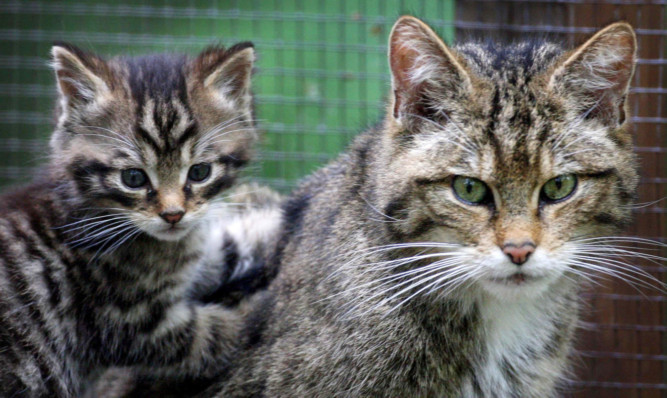 Efforts to clone one of the rarest animals in the world have been rejected by experts.
With just 150 breeding pairs of wildcats remaining, a number of proposals have been made to ensure their survival.
Inspired by the success of his Dolly the sheep project in the late 1990s, embryologist Dr Bill Ritchie started working on a new cloning technique two years ago.
Although no further progress has been reported, Mid-Scotland and Fife MSP Murdo Fraser has been keen to reintroduce the idea to save the Scottish icon, which is rarer than the Bengal Tiger.
His hopes have been dashed by experts, however, who revealed there are no active plans to clone wildcats while there are still other "more immediate" options available.
Environment and climate change minister Paul Wheelhouse said: "The main threat to the Scottish wildcat is considered to be hybridisation with feral domestic cats, hence many of the actions being considered are intended to reduce the threats to wildcats from domestic cats in the countryside.
"This is being undertaken through neutering and vaccination and the promotion of wildcat-friendly land management practices.
"Other actions are likely to include further survey work to improve our knowledge of current Scottish wildcat populations, research on both genetics and hybridisation issues and on practical habitat management."
He said a captive breeding programme and storing frozen gametes (reproductive cells) are under consideration, but the current priority was to promote responsible domestic cat ownership.
The Royal Zoological Society of Scotland's head of conservation science, Dr Rob Ogden, also said cloning could be considered in the future, but only when "all other avenues have been exhausted".
He continued: "As part of the RZSS' conservation strategy, we actively encourage the development and application of all scientific techniques that aid in the conservation of wildlife. It is our belief that the storage of biological material should be undertaken whenever possible for research and future conservation action.
"With regard to the Scottish population of wildcats, while we would continue to encourage the collection of biological material, we would like to make it clear that RZSS is not currently involved in any cloning projects related to wildcats and any indications that RZSS is backing such initiative at this time are inaccurate."