 A man threatened to shoot and stab a police officer, and also to slit his throat and rape his wife, because he blamed him for the death of his dog, Perth Sheriff Court has heard.
The court was told the officer was "shaken" by the threats from Martin Reeves (30), of John Law Court, High Street, Auchterarder.
Reeves blamed the officer for the death of his rottweiler, Bonnie, which the court had previously ordered should be put down. The dog received the death sentence as a result of it biting two officers a total of five times.
Bonnie subsequently was put down and his owner, Martin Reeves Snr (52) was jailed for three months in July last year at Perth Sheriff Court after he was found guilty after trial of assaulting two PCs by commanding the dog to attack them at John Law Court, Auchterarder, on February 3 last year. He was also found guilty after trial of being the owner of a dangerously out of control dog on the same date and and at the same address, whereby it repeatedly bit the officers to their injury.
The court had previously heard that Reeves Snr ordered the dog to "get them (the police officers)".
On Wednesday, the court heard that Reeves Jnr "blamed" the officer concerned for the death of his dog.
"There was no justification for this," depute fiscal Robbie Brown said. "The accused was at Auchterarder police station when he began to utter threats to this officer.
"He (Reeves) told the man he was going to kill him. The accused told the officer he was going to stab him in the throat, rape his wife and also that he would 'batter him'," Mr Brown went on. "There was some history with this officer."
Mr Brown acknowledged that many police officers have to contend with such abuse, but claimed this was "well beyond that".
"The officer felt the accused may well carry out these threats and they were likely to happen, including the one about raping his wife," Mr Brown added. "He was shaken and found this extremely distressing."
Solicitor David Holmes, defending, said his client had now had time to "reflect" on the matter.
Reeves admitted that on January 6 at the car park of Auchterarder police office he uttered threats to a PC, in that he threatened to slit his throat, to shoot him, to stab him and to rape his wife.
Sentencing Reeves, Sheriff Michael Fletcher said threats of this "magnitude can't be tolerated".
The sheriff sentenced Reeves to three months in prison. He also ordered the sentence to be backdated to January 7, to take account of the time Reeves had spent behind bars on remand.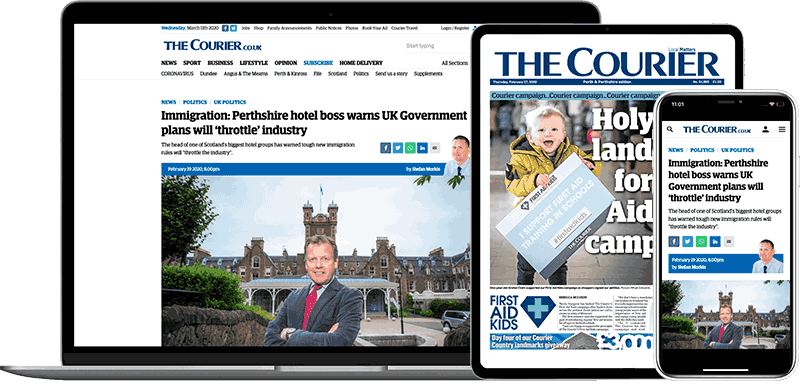 Help support quality local journalism … become a digital subscriber to The Courier
For as little as £5.99 a month you can access all of our content, including Premium articles.
Subscribe