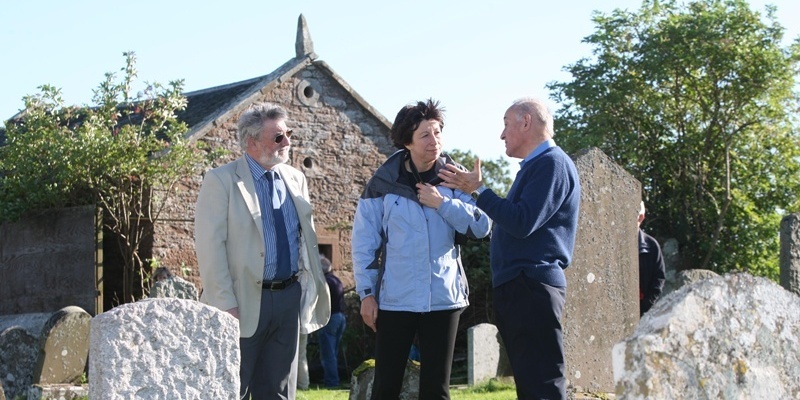 Major conservation work is under way on a structure once used to defeat 19th-century grave-robbers.
The morthouse in Collace graveyard in east Perthshire was built when the fear of body snatching was at its height. The growth of anatomy schools and medical research at universities demanded far more corpses on which to perform investigations than were legally available.
Many were instead bought illegally from so-called "resurrectionists" who exhumed recently-buried bodies for this purpose.
Others, such as Edinburgh's infamous Burke and Hare, soon developed alternative methods of procuring corpses, preferring to get residents of the capital drunk before smothering them.
In response, morthouses were designed to act as public vaults in which coffins could rest safely until the body inside had decomposed and was no longer suitable for dissection.
Thick walls, heavy doors and sturdy locks kept grave-robbers at bay for between six weeks and three months before bodies were finally laid to rest.
The morthouses remained important within Scotland until legislation was passed in 1832 that provided regulations for the use of corpses for anatomical study, after which they fell into disuse.
Collace Morthouse is one of only eight such structures with listed building status in the whole of Scotland and sits in the parish graveyard alongside another historic structure, the Nairne Mausoleum.
Over the years the B-listed structure has begun to show signs of deterioration, but will now be preserved for future generations thanks to a project being led by the Perth and Kinross Heritage Trust.
Significant work will be carried out to restore the stone and timber roof structure using as many of the existing roof slates as possible and repair the external walls.
Continued…
The repairs are expected to be completed by July, when it will be possible for the public to view the morthouse once again after 15 years of being off-limits due to its poor condition.
In addition to the repairs, educational and promotional material is also being prepared in order to develop a wider "body snatcher" theme, thanks to additional financial support for the morthouse from the European Rural Development Programme LEADER Fund.
It's hoped that the rather off-beat subject may attract new and younger visitors to historic churchyards and entice them to delve deeper into Scotland's often grisly history.
The beginning of work was welcomed by the trust's Fiona Fisher, who is leading the Historic Churchyards Project that is rejuvenating crumbling sites across Perth and Kinross, initially at Coupar Angus, Meigle, Collace and Kinfauns.
Describing it as "a great day," she said the morthouse renovations marked the start of the project's major conservation works.
Also firmly behind the project are members of the local community who are keen to see the historic structure preserved.
"This day has been long-awaited by those of us in the community who have taken an interest in the heritage of Collace," said Martin Payne, secretary of Burrelton and District Community Council.
"Fifteen years has been a long time to wait for such a prominent building to be revealed once more. We are delighted that, after all these years of trying, work is now proceeding to save this historic building."
Councillor Alan Grant was present as work started on Monday and said: "It is only fitting that this historic building should be revealed so that locals and visitors of all ages can see it, learn about its practical function and enjoy their heritage."