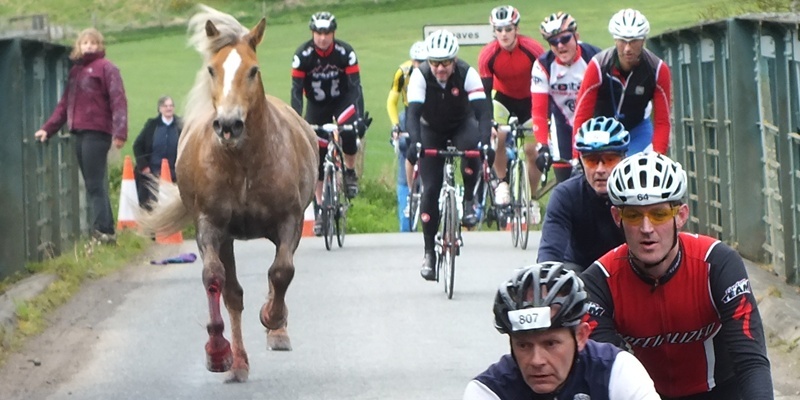 The owner of a terrified horse which bolted from its field as hundreds of Etape Caledonia cyclists passed has spoken of race organisers' "denial".
June Anderson from Camserney, near Aberfeldy, could only watch in horror as frightened pet Danny jumped a barrier and galloped along the road beside bewildered racers.
The 14-year-old horse suffered a deep gash on its leg and was only stopped when marshals corralled it two miles into its fevered dash.
June, who faces a three-figure vet bill, said: "Thankfully he didn't break his leg and no cyclists were seriously injured either. It was traumatic enough but it could have been even worse."
She said it is the second year in a row Danny, which will make a full recovery, has panicked as the thousands of bikers passed its field but there has been no engagement from the authorities.
June (41) said: "He got very frightened by the quantity of the bikers near the field and was basically trying to run away from them his flight instinct kicked in. It was very traumatic for him, and me absolutely terrifying.
"He reached the Green Bridge after about two miles of running and was herded off the road and, fortunately, ended up with the heavy horse ploughman, Alan Thompson. We got him fixed up and he had a much slower walk home.
"It was quite a deep gash below his knee and it was lucky it wasn't any higher or we'd have been speaking about a broken leg."
June spent the morning in the field and tried to keep Danny from the area beside the road, but to no avail.
Continued…
She said: "This year, I did everything I could to prevent him being at that end of the field but he saw the bikes coming and jumped the divider and just kept going.
"Next year I'll move him from that field because it's quite obvious he won't be able to settle with the bikes passing."
She added: "Last year, the organisers were in denial that the horse was on the road at all. It took quite a lot of emails and phone calls for them to acknowledge it and they said they would get back to me and discuss it I've not heard from them since.
"I've also got a huge vet bill a three-figure sum coming my way because the vet was out on Monday morning and he comes back again on Thursday to check the wound's healing.
"Somebody did speak to me after it happened on Sunday and took my number but I've heard nothing. I don't know at the moment what I'm going to do but it is a problem which needs sorted in future years."
Event director James Tibbets said: "Firstly, we are pleased to hear that Danny the horse is expected to make a full recovery.
"Our operational team were aware of an incident involving Danny in 2011 and spoke to Mrs Anderson following that event, agreeing that she was responsible for ensuring Danny's safety on the day, and that we would keep her notified of the event dates and timings, which we duly did.
"Thankfully, on this occasion, our marshals were able to corral Danny and bring him under control quickly and without any injury to participants in the event."
He added: "However, it must be stressed that livestock owners do have a responsibility for their animals at all times, and should ensure they are appropriately insured, securely contained and therefore not a danger to the public, as is the case in everyday life."
Photo Explore Scotland