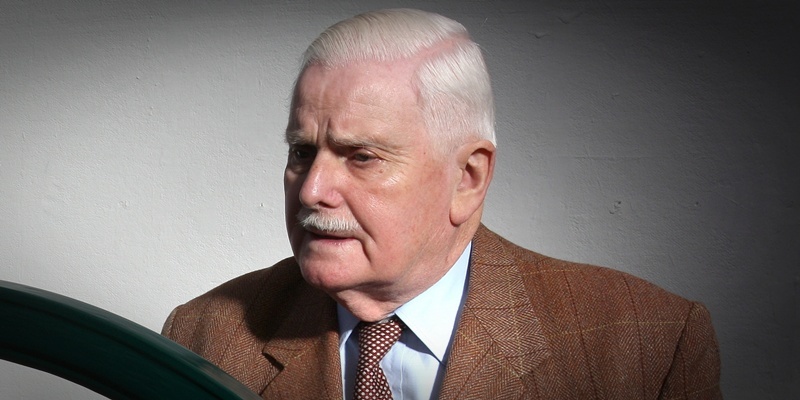 Sir James Cayzer, the fifth Baronet of Gartmore and a generous supporter of many charitable causes, has died at his home in Kinpurnie Castle north of Dundee. He was 81.
Sir James inherited the title at the age of 12 from his brother Nigel, who was killed at Salerno in 1943 while serving with the Scots Guards.
He completed his education at Eton and came north to run the Kinpurnie Estate at Newtyle in Angus, dominated by the castle which became his lifetime home.
Sir James, who never married, had substantial business interests including his directorship of Caledonia Investments.
His family's business empire was founded by his great-grandfather, the first Sir Charles Cayzer, and was based in shipping with the family owning the Clan and Union Castle lines.
Sir James led a full life in business and spent two months each year based in London, often staying in Claridge's, and was a regular foreign traveller.
Nephew Nigel Cayzer said his uncle was always happiest back home at Kinpurnie and in the Newtyle area, for which he had a passion.
"He always loved being here and took a great interest in the area and its people," said Mr Cayzer. "My uncle was a very generous person to causes both local and national. He was very supportive of causes to do with young people and went out of his way to be kind if he could help them at all.
"He had great difficulty saying no to anyone. He talked about this to me and he said he was very lucky to have a lot and he felt it was his duty to be helpful to other people."
The Red Cross was an organisation for which he had a strong affection, developing an interest from his mother, Lady Cayzer, who was patron of the national charity for 28 years.
A patron of the Red Cross in Tayside, Sir James was also a supporter of the Scots Guards Association and the Soldiers, Sailors, Airmen and Families Association.
Locally, he gave generous backing to maritime organisations including HMS Camperdown and HMS Unicorn. He would often entertain visiting naval crew, hosting dinners in their honour at local hotels.
Maggie's Centres, the cancer care network of which his nephew, Nigel, is national chairman, also enjoyed his support.
In his spare time Sir James, who never learned to drive, had a great interest in Rolls-Royces and was often seen being driven around Dundee and South Angus in his 1930s model.
Nigel recalled: "He even used it to go shopping. He was delighted to take it to places like Tesco in Riverside Drive, where it would be parked alongside other cars whose drivers would turn their heads in amazement at a vintage Rolls-Royce appearing alongside them.
"He knew everything about that car and had a wonderful knowledge of Rolls-Royces in general their history, who owned them and how they operated."
Sir James relaxed by listening to classical music and was especially fond of the work of the Strauss brothers. A regular traveller to Vienna for concerts and operas, he gave financial support to musical organisations and was decorated by the Austrian Government for his services to the music of that country. He had an extensive collection of music and listened almost constantly to Strauss pieces towards the end of his life. When he died at Kinpurnie Castlle on Monday, the music of Joseph Strauss, brother of Johann, was playing in the background.
The Kinpurnie estate and its many farms, a substantial undertaking stretching over much of the Sidlaws, will now be run by Nigel, who is 57.
With no children to survive Sir James, the Baronetcy of Gartmore will now pass to a distant cousin, Lord Rotherwick.TributesThe funeral of Sir James Cayzer will be private at his request but his family said there will be a memorial service for his many friends to pay their respects.
Dundee Lord Provost John Letford said: "I have known Sir James for many years and have seen first hand his generosity, both of spirit and in the way he supported many local and wider causes that were close to his heart. I will miss his energy and flamboyance, and without it the world has become a slightly more colourless place."
Angus Provost Ruth Leslie Melville said: "With the death of Sir James, Angus loses a very dear friend. He was a hugely generous philanthropist and benefactor, not only to organisations and charities but he never turned his back on the needs of individuals and friends.
"He was a man of huge wealth who could very easily have concentrated only on the things which gave him pleasure but his soft heart and generous spirit was such that he was easily moved to help his community.
"His generosity is responsible for the development and progress of many ambitious schemes throughout Britain and in Europe. I shall miss him on a personal level as a dear friend and see his passing as untimely."
The Lord Lieutenant of Angus, Georgiana Osborne, added: "I was so sad to learn of Sir James' death and feel the county of Angus has lost not only a great benefactor but a very dear friend.
"Throughout his life, Sir James gave so generously to causes big and small and was a hugely supportive patron of countless local organisations. I know the Red Cross, SSAFA (Soldiers, Sailors, Airmen and Families Association) and the Scots Guards were particularly close to his heart.
"He will be remembered with great affection and much missed."