 Morna Millar, an active figure in Dundee and Angus, has died aged 87.
Mrs Millar ran the Cottage Gallery and tearoom at Old Kirkton, Newtyle, for 20 years, turning it into a popular venue.
She had been heavily involved in running the WRVS in east Scotland and supported the Red Cross and other nursing organisations.
The daughter of Brigadier William MacDonald, Mrs Millar's early life was spent in Newtyle. She went to school at Seymour Lodge, Dundee, and Tudor Hall School, Kent.
During the second world war she nursed in Burma and the Far East. She returned to Scotland and made a substantial contribution to the area reorganisation of the WRVS.
Keenly interested in politics, Mrs Millar held Conservative Party posts in the Barnhill and Newtyle areas.
She married John Millar of Dundee grocers William Millar & Sons, who subsequently served as managing director of Dundee Supply Co.
Following her husband's death, Mrs Millar opened the Cottage Gallery at Old Kirkton, which attracted the support of artists, such as McIntosh Patrick, Colin Gibson, Neil Catchpole, James Reville and Lindsay Clark, and of novice artists who were encouraged to show their work.
The gallery held regular exhibitions until Mrs Millar retired in 1999.
Mrs Millar is survived by her two daughters, Caroline and Jayne. Her funeral will be at Newtyle Church on Monday at noon.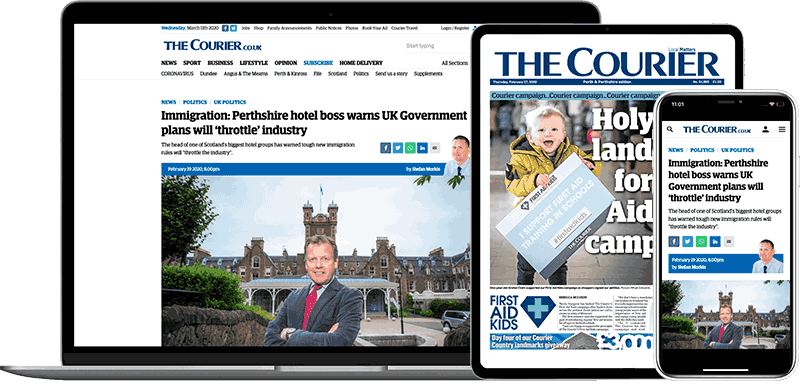 Help support quality local journalism … become a digital subscriber to The Courier
For as little as £5.99 a month you can access all of our content, including Premium articles.
Subscribe