 Arbroath man David Harris Smith has died at the town's infirmary a few months after his 90th birthday, following a lengthy illness. His funeral will take place on Friday.
An engineer, Mr Smith served his apprenticeship at Shanks in Arbroath before working with the Shand-Kidd group in London, James F. Low in Monifieth and Lomax & Smith in Dundee.
The only break in his career in engineering was a spell assisting in his father-in-law's dairy business.
Mr Smith was also a part-time firefighter and member of Lodge St Thomas No 40, being recognised in December 2007 for 60 years' service, and after retiring was a volunteer with the Citizens Advice Bureau and patient transport service driver.
Although active in cycling and junior football circles, Mr Smith's main interest was in local theatre, creating sets and scenery for the Abbey Theatre, the Angus Minstrels, Arbroath Musical Society, MIDAS and many others.
He also acted as stage or lighting manager for just about every amateur or professional group appearing at the 'old' Webster Memorial Theatre.
On a few occasions he was persuaded to take bit parts in Abbey Theatre productions.
Mr Smith often holidayed abroad with family and friends and made many visits to relatives in the USA and Canada, but was equally happy walking along the Arbroath cliffs or driving in the Angus glens.
Predeceased by his wife Sheila more than 40 years ago, Mr Smith is survived by daughters Audrey and Maureen, sons David and Leslie, nine grandchildren and his sisters Eleanor and Margaret.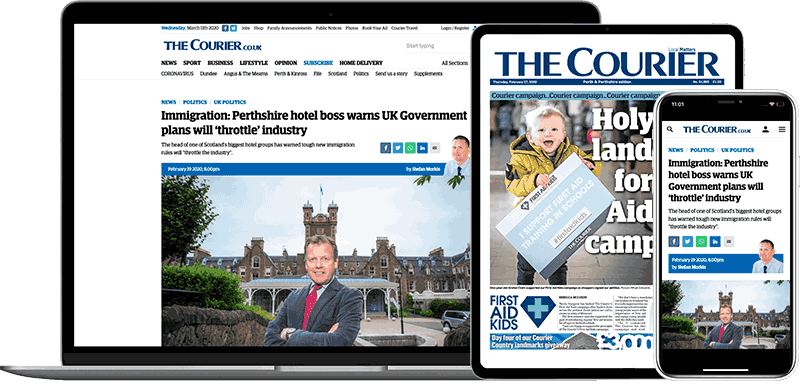 Help support quality local journalism … become a digital subscriber to The Courier
For as little as £5.99 a month you can access all of our content, including Premium articles.
Subscribe