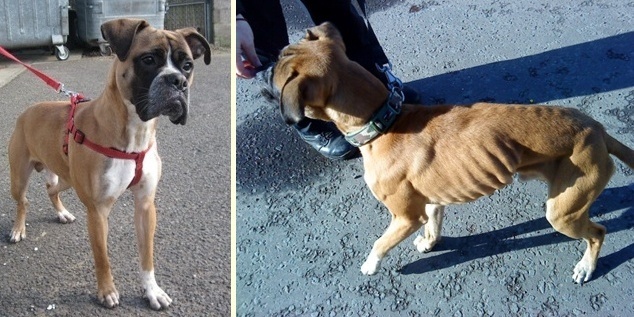 A heroin addict who allowed his pet dog to waste away to nothing more than skin and bone has been banned from keeping animals for three years.
One-year-old boxer Buster was almost half his healthy weight when the SSPCA intervened earlier this year.
Relying on benefits and loaded with debts, owner Mark Neil (37) could barely afford to feed himself. The dog received less and less food, with what little he did receive coming from a neighbour.
Over time Buster became seriously malnourished, visibly wasting away and suffering from diarrhoea.
By the time Perth and Kinross Council's dog control officer was alerted to Buster's condition by an anonymous caller, he was so weak that he could barely support himself.
The SSPCA seized Buster after visiting Neil's Perth home. The dog was taken to a kennel for assessment by a vet, who quickly established that there was sufficient reason to charge Main with neglect.
Depute fiscal John Malpass told Perth Sheriff Court: "When seized and examined by the vet the body weight of the dog was just 17.2kg and he was assessed as having a body condition of one out of five, with one assessed as emaciated and five as obese.
"A care plan was put in place for the dog while in the care of the SSPCA and his condition was carefully monitored over the course of the next few weeks."
Between his seizure and his rehoming on April 13 his weight rose to a healthy 23.8kg.
At court on Monday, Neil, of St Andrews Street, admitted causing the dog unnecessary suffering by omitting to provide a wholesome diet and failed to protect it from suffering, injury and disease between January 1 and February 9.
Solicitor Cheryl Clark said her client had become Buster's owner in early 2010, along with his then partner.
Ms Clark said: "During this time Mr Neil was a recovering heroin addict. When they separated in 2010 his partner chose to leave the dog in his care.
"Mr Neil was left struggling financially and also emotionally and was very much at the low point in his life.
"He was in receipt of benefits, but due to debts that he was paying he was finding himself unable to adequately feed the dog and could certainly not afford any vet's bills.
"He was considering having the dog rehomed when he was visited by officers."
The solicitor added that her client was remorseful.
Sheriff Robert McCreadie was shown images of the dog taken by officers before passing sentence.
He said: "Given the emaciated state of this dog it is clear that it must have been deprived of suitable nutrition for some considerable time. No reasonable person would allow their dog to get into that condition.
"You should have considered rehoming this dog long before they had to intervene to prevent him from getting into such a state."
In addition to banning Neil from owning or keeping animals for three years he also fined the accused £500, which he will pay at a rate of £5 per fortnight.
SSPCA chief inspector Brian Cowing welcomed the court's decision, saying: "Buster was a very friendly, loving dog and we're delighted to say he has since found a loving new home."