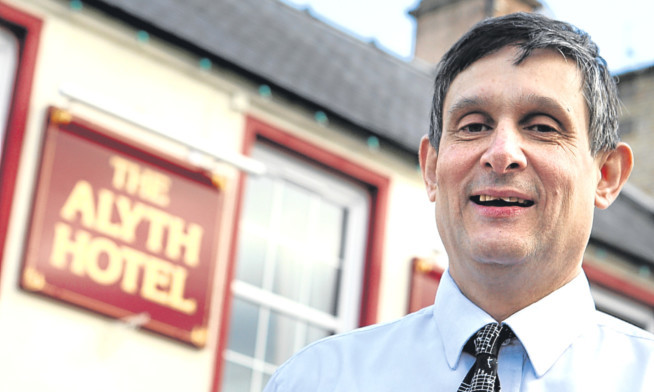 A landmark hotel left devastated by freak floods has finally reopened.
The Alyth Hotel was one of the worst hit buildings when torrential downpours caused widespread damage throughout the town last summer.
The relaunch following a major refurbishment marks another milestone in the community's ongoing recovery.
Hotelier David Coupar said the nine-month restoration had cost about £250,000 and he believes a similar sum has been lost in sales.
The Commercial Street hotel was forced to shut down after the July 17 flood.
The ground floor of the property was submerged under three feet of water and a downstairs bar, restaurant and toilets were extensively damaged.
Mr Coupar said: "We are absolutely delighted to be able to reopen. It has taken a lot of work and effort, but we finally got there. It's a huge relief for us."
He said: "We were the only business still closed after the floods.
"Now we can draw a line under what happened and finally move on with things.
"Alyth is looking great," Mr Coupar said. "You can really see life coming back into the place. We're finally getting back to normal."
On the day of the flood, the hotel was cut-off by water and guests were trapped in their upper floor bedrooms.
The neighbouring Pricecracker convenience store was also badly hit. It was restored at a cost of £90,000.
While some businesses were able to reopen just weeks after the disaster, many were forced to stay shut for several months.
The council is still working on new bridges to replace the crossings which were damaged beyond repair.
A report by Perth and Kinross Council, the Scottish Environment Protection Agency and Scottish Natural Heritage concluded flooding was the result of a downpour only likely to occur once every 200 years.